The 3D pen is a relatively new tech concept that could come as a surprise to many of you. But once you know what a 3D pen is, you'd want to buy the best 3D pen right away. Despite being new, 3D pen technology is getting popular rapidly because people love to use a pen that 'builds' objects instead of drawing them on a 2D canvas.
A 3D pen looks like your regular pen except that it's fatter and bulkier. This pen doesn't use ink, and it doesn't write. Instead, it uses plastic, and it 'builds.' Despite this fundamental difference in the outcome, you grip it just the way you handle a regular pen, and you operate it the same way. So, there is not a significant learning curve, and there's not much stopping you from building your favorite structures of plastic using a 3D pen. You might want to check our article on the best 3d printer.
A 3D pen works by converting a plastic filament into plastic ink. If you are wondering how that happens, here is a quick explanation. You insert a plastic filament in pen. The heating mechanism inside the pen turns that plastic into a liquid that could be used as ink. With this plastic ink, you can write anywhere you like. If you want more from your 3D pen, only use it to build small structures by learning 'additive manufacturing' techniques.
Put simply, a 3D pen is like a manual 3D printer, and your hand's movement controls what you print. Since these pens come in several different colors, you can write or draw almost anything that you can dream. If that sounds fascinating and you want to buy one of these pens, don't settle for anything less than the best. Below, we've put together a guide of the best 3D pens for you. Take a look at the list.
Buy On Amazon
MYNT3D Professional Printing 3D Pen with OLED Display is the best 3D pen of 2017. You can use it to sketch, doodle, or print 3D structures. It works like a stylus that is crafted for high precision. This pen comes with adjustable feed. That means you can control the speed and flow of the ink (plastic) in this pen with ease. You can quickly draw complex 3D structures by just using this feature correctly.
Not only the flow and the speed, but you can also adjust the temperature of the drawing ink in this pen. You can set the temperature anywhere between 130C and 240C. With this pen, you can adjust how hot the ink should be so that you can easily craft your next 3D masterpiece.
MYNT3D Professional Printing 3D Pen is easy to use. It comes with a brilliant OLED display that allows you to look at the thermal settings before you start using the material to write/draw your design. This temperature setting allows you to bring a wide variety of effects to your designs.
When you buy this 3D pen, you get three colors of ABS plastic filaments with it. However, you are soon going to need a lot of these filaments especially when you start building a lot of stuff. You can create cute toys, write sweet messages on other stuff, or simply use this layering technology to shape plastic filaments into any sculpture you like. You can find these ABS plastic filaments in various colors, so you don't have to worry about aesthetics of your designs.
The good news about this pen is that you don't have to buy proprietary filaments to use with this pen. You can buy any ABS plastic filaments under the sun to use with this pen. They all work like a charm. And there's more, this pen has a great ultra-slim design and a replaceable head. It's powered by USB so you can charge it anywhere it runs out of power.
Features:
Ultra-slim design
Replaceable head
Powered by USB
Works with any ABS plastic filaments
OLED display
Controllable flow and speed of the ink
Sketch doodles or write a message
Buy On Amazon
3Doodler Create 3D Pen comes with 50 plastic strands that keep you busy for quite a while before you feel the need to buy more. These plastic strands are non-toxic, and all of them are smoky blue in color. Be ready to innovate in design with the color blue. But if you are like most of us, you'd want to add more colors. Just buy any plastic strands of the size of the pen, and you will be able to add colors to your smoky blue drawings, sculptures, and writings.
This best selling 3D Doodler pen is the newest model, and the manufacturer has shown a great response to what you want. This pen is slimmer, stronger, and lighter than any other doodler that you've met so far. This new design is appealing and yet makes managing the pen easy. You'll love the all-improved drive system that makes the pen operation quiet and smooth. Be prepared to create as you dream with this amazing 3D doodler.
You can doodle in 3D using this pen. You can go horizontal like a traditional pen or choose to build upon your structure in vertical. This gives you a lot of scopes to take your imagination out of the paper and into a 3D world of writing, sketching, and sculpturing. 3Doodler Create 3D Pen is perfect for adults who want to use it to enhance their crafts. It is equally useful for other hobbyists and DIY-lovers.
Even professional artists could use this pen to improve their designs and add the new 3D perspective to their designs.
Since this 3Doodler Create 3D pen is versatile by its design and construction, you can use it for pretty much everything. Load it with a plastic of your choice and put the nozzle that gives you the right flow of ink. If you want more, use this pen with any 3D stencil available in the market. Similarly, you can couple many other accessories with this pen to create unique 3D designs.
Features:
Slim and practical design
Works with a variety of non-toxic plastics
Works with 3D stencils and other accessories
Changeable nozzles
360 days replacement policy
Excellent round-the-clock customer service
Buy On Amazon
NexGadget Intelligent USB 3D Printing Pen is the ultimate 3D pen that comes with optimized temperature control, and anti-clogging nozzles. This hand-held 3D printer pen has ultra safety features that make it one of the best 3D pens available in the market.
This pen is compatible with PLA/ABS filament. The pen comes with filament refills to help you get started. When you run out of these filaments, just buy any 3D pen filaments (ABS or PLA), and they'll work with the 3Doodler Create+. As a result of its fiability you can take it with you anywhere and use it on-the-go. It's a portable hand-held 3D pen that fuels your imagination.
This fantastic 3D printing pen works just like any other 3D pen. It heats the plastic from the filament and then uses it as ink. You can draw any structure in 3D. You can change colors, flow, and the speed of the filament to achieve complex structures. Unlike many other pens on the market, you can use this 3D pen like a regular 2D pen. You grip it the same way, and you move it the same way. So, it's easy to draw just about anything. Run your imagination and turn it into reality.
We mainly recommend it because it has excellent features and high-quality design. The pen has a nozzle that ensures the temperature of the tip is always low, so you don't burn your fingers when holding the pen closer to the tip. Smart temperature sensing heating makes this pen one of the best option among the best 3D pens for anyone who has a close-to-tip pen grip.
Features:
Auto-sleep mode activates after 2 minutes of no activity
Patented nozzle with low temperature at the tip
Works with any PLA/ABS plastic filaments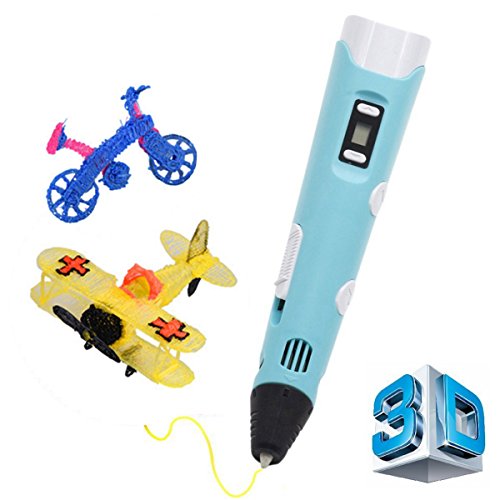 Buy On Amazon
3D Printing Pen by CCTRO comes with an LCD screen that makes it easy to read temperature while working on your next 3D masterpiece using this pen. It is perfect for 3D scribbler printing and drawing. You can also use this device for 3D modeling.
When you buy this pen, it comes with 30g PLA plastic filaments. You can use them to create your model, but when you finish them, you can easily buy any PLA plastic filaments to use with this pen. Be sure to buy high-grade synthetic filaments with no toxins.
This pen has a perfect grip. It's easy to draw, even for hobbyists. It uses the plastic threads to give you the writing ink. When you put the plastic filament in the pen/, it heats it and turns it into liquid plastic. This liquid flows from the pen nozzle and settles as it cools after you draw your sculpture using it.
With this pen, it's easy to control the ink flow so that you can draw complex structures with minimal effort. You only need to press the pen nozzle to start drawing. There is a button on the side of the pen that allows you to adjust speed and flow of the ink. The button on the other part is for temperature control. You can change both the settings while using it.
You can use plastic filaments of varying colors with this pen. Just pick your favorite color filaments made of ABS or PLA plastic and use them with this pen. It's a great gift for budding artists, a hobbyist, and DIY-lovers. You can even gift this pen to kids as it is safe to use and doesn't burn fingers on the nozzle with heat. Your children will love creating their favorite structures and decorate their crafts using this fantastic 3D pen.
Features:
LED screen for temperature and speed display
Ideal for adults and kids
Uses ABS/PLA standard plastic filaments
Easy to draw complex structures as you can control speed and temperature
Weighs only 62g
Buy On Amazon
This 3D Printing Pen with LCD Screen comes with plenty of features that will impress everyone from hobbyists to professional artists. For example, you can adjust temperature quickly, use any ABS/PLA plastic filament, and use step-less control for enhanced precision in your 3D models. It's a pen that you'd want if you want a quality pen that is lightweight and versatile. It's small, but handy and the screen provides temperature reading. Since it's a digital display, you can easily play with temperature settings and set your desired temperature between the permitted ranges.
You can use it to sketch anything, anywhere. It uses plastic filaments as a raw material, like many other 3D printers and pens. A heater inside the pen melts the plastic filaments and uses the hot liquid plastic as ink for writing/printing. You can select any color you like, but the filament should be ABS/PLA plastic. Be sure to buy only toxin-free filaments.
With this pen, you will find it easy to create intricate designs. You can control extrusion speed, which means you can change the flow of the ink at any time you like. Similarly, you can control temperature that can have a huge impact on what you can draw using a 3D pen. But that's not it – the pen weighs very little, making it a perfect companion for professional artists and hobbyists who'd like to carry a 3D pen anywhere they go. This is a 3D pen that fits in your pocket.
This 3D pen uses advanced unclogging technology that allows for easy cleaning. You can open and clean the tank and nozzles any time. When you buy this pen, you get a pen, a standard power adapter, multiple plastic filaments, an operational manual and you can buy a spatula that will keep your fingers safe from burning when using this pen at high-temperature settings for an extending period.
Features:
Great design that makes it easy to hold and use this 3D pen like a regular pen
Intelligent standby mode
Adjustable temperature between 190 and 220 degrees
Silent operation
Anti-clogging mechanism
Easy control to change speed settings
Buy On Amazon
AIO Robotics Premium 3D Printing Pen is perfect for modeling 3D structures and drawing anything you want. This pen can be used as an exceptional educational tool that teachers can use to draw complex models in 3D. This pen comes with a bright OLED display. With all these features, AIO Robotics Premium 3D Printing Pen is easily among the best 3D pens of 2017.
This pen allows you to draw 3D structures with high precision. You have complete control on flow and speed of the ink, and you can adjust the temperature in 1-degree increments. As a result, you can control the way this pen draws. It makes your life much easier while crafting compared to 3D pens that give a constant speed and flow.
The pen comes with a bright light display. This screen is so bright that even under the full bright daylight; you can easily see digits and read temperature settings on the pen without having to bring it closer to your eyes. The bright display makes this pen easy to use, making it truly versatile for people with varying needs and experience with 3D sculptures.
Since this pen works great with any PLA printing material, you don't have to buy proprietary filaments every time. You can use the first set of PLA plastic filaments that come with the pen and then buy any filaments that you like. Just be sure to use only PLA plastic material that's non-toxic so that you don't damage your health as toxic plastic can release toxins when heated.
AIO Robotics Premium 3D Pen has a stylish look. It's ultra-slim and has an ergonomic touch that makes it extremely comfortable to grip this pen. Your hands won't slip off the pen even when you are writing or drawing fast. The pen comes with a USB charging output that makes it even better as users can carry the pen with them without worrying about its battery level. You can charge it on the go in your car or anywhere else you can plug in a USB charger.
Features:
Adjustable temperature with 1-degree increment
High-precision nozzle
Bright OLED display
Ultra-slim, high-quality design
ROHS approved and FCC, CE certified
Best 3D Pen for Kids
Buy On Amazon
This 3D Pen is perfect for kids as they can use it to draw their favorite structures in minutes. This 3D printing pen allows your kids to improve their creative thinking while exploring their inner artists. If you are looking for a gift for your children, look for the best 3D pens for kids.
As this pen is manufactured keeping kids in mind, it comes with easy speed control. After you insert the filament in pen, you can change the rate at which it melts and produces the plastic ink. Teach your kids how this could help them draw advanced sculptures and watch them use this feature to surprise you with their 3D masterpieces.
Kids can't always spend their pocket money on buying expensive proprietary filaments. When you purchase this 3D printing pen, they can buy cheap non-branded filaments as they all work with this pen. Just be sure to teach your kids to buy non-toxic filaments as you toxin found is some plastics can harm their health.
This 3D pen comes with an easy temperature control. Your kids can adjust it anywhere between 130 and 240 degrees Celsius. When your kids learn to use temperature control, they can go for advanced 3D designs that require temperature control to accurately draw the models.
The pen comes with some accessories to help your child start drawing right after opening the package. It comes with a 30-feet long filament that will assist your kids to generate quite a few 3D models before they ask for the new filament. You also get a 5pcs stencil with the pen that makes it easy to draw 3D structures. Once they are good with sketching structures from a 3D stencil, let them have some freehand fun with this pen.
Features:
Perfect for kids
Allows kids to invoke their inner artists
Temperature control to allow smooth 3D painting
East to control ink flow and speed
Works with non-proprietary PLA/BPA plastic filaments
Comes with filament and 3D stencils to help you create from the moment go
Buy On Amazon
Soyan Standard 3D Printing Pen is a great gift for kids who can explore their creative person using this pen. It allows them to write on paper or any other surface, draw sculptures, and build structures in mid-air. Your kids are going to love this powerful creative 3D tool. It works like a pen but gives the output you expect from a 3D printer.
Since this pen is specially designed for kids, it comes with drawing templates. Kids can use these templates to draw stuff in 3D while learning to create their structures. It will take a few weeks before they start surprising you with their creativity.
The pen also comes with plastic filaments. Your pen will use these threads to produce plastic ink. Insert the filament in pen and press the nozzle to start drawing in 3D. When your kids ask for more, give them non-toxic PLA/BPA plastic filaments. They are available in various colors so be sure to ask your children about the colors they need to complete their 3D masterpiece. You don't have to buy proprietary filaments as this 3D printing pen works with anything as long as it is made of plastic.
Kids can draw better when they can control the extrusion speed of the liquid plastic ink. With this pen, they will find it easy to adjust the ink flow. When they learn to control the flow, they can quickly design structures in the vertical dimension apart from exploring their creativity in the vertical dimension.
When you buy this pen, you get a power adapter, a quick start guide, template paper, and ABS filaments. These accessories help you get started. The quick start guide is a great place to learn how to use this pen. The plastic filaments will let you practice while you learn from the manual, while the paper stencils will allow you to create your first 3D structure using this pen.
Features:
Perfect 3D printing pen for kids
Temperature control
Adjustable ink flow
Draw in horizontal or vertical direction
Comes with paper stencils and 30g filaments
Buy On Amazon
3Doodler Start Essentials 3D Printing Pen Set is a perfect starting point for your kids who want to explore 3D printing and drawing. This pen is child-safe, so you don't have to worry about your kids burning their hands while using this pen. Pen nozzle remains cool even when the liquid plastic coming out of it is hot. Similarly, the plastic is never too hot to burn. That means kids can touch the plastic ink coming out of the pen without risking injury. The 3Doodler 3D Printing Pen is suitable for children aged eight years or above.
This pen is an exceptional educational tool as your kids can learn to draw in the horizontal as well as in the vertical direction. They can be creative with regular color pencils, but this pen requires them to plan ahead of time due to the way structures are built using this pen. This helps to improve their spatial understanding.
You can't change temperature or speed of this pen. It has one speed and one temperature, making it perfect for kids to use who might find it difficult to play with these settings to find optimal temperature and speed range for their drawings. They can start drawing with this pen without having to think about any configuration. All they need to learn to use this 3D pen is to press the nozzle and write like they do with a regular pen.
Features:
Safe for kids
One temperature and speed setting
24-hour customer service
Charge the pen wirelessly or plug in and use