Choosing the perfect air hockey table is not an easy job nowadays as more and more companies are trying to jump on the trend of playing arcade style games in your own home. Before you can decide which table is right for you, a simple question needs to be asked: How important is air hockey for you? If you just want to give your kids a more sophisticated toy for them to play around with then that's fine. If you are really a huge enthusiast and you're finally ready to take that extra step forward and go more professional then that's great because lots of premium air hockey tables are out there that fit your needs exactly. After a reasonable time spent to assess the market for air hockey tables, we can safely say that we've narrowed it down to the best ones available. There is something for everybody in here no matter the budget. Maybe you want to give a special gift to someone who's really passionate about this game or you think it would be cool to furnish up your basement and transform it into a fun game room. If you need the best Pilates reformer or the best zero turn mower, we wrote articles about those as well.
Before you jump in and check out the most amazing tables that are actually worth your money let's briefly go over the three most sought out features of an air hockey table so that you can know what you're actually supposed to be aware of before making a decision. Those familiar with these can, of course, skip this section. One of the most important aspects you need to consider is that you'd want your game table to be adequate in size to fit well the people who will use it. For kids and teenagers, the three to four-foot range is good enough but the adults will prefer something around six to seven foot or longer. Another thing to keep in mind is the fan or blower. A powerful one will aid tremendously in maintaining the movement of the puck and a smooth flow of the game so spending a little more on a quality blower could have a relatively big impact on the overall enjoyment. The last aspect that should not be overlooked is the durability of the table. A cheap flimsy one made of plastic won't last you very long realistically speaking, but it's not that bad of an option if you just want to quickly get something entertaining for the kids. Most expensive air hockey tables are a solid investment because they will ensure you get to enjoy the game for years as they are significantly more reliable thanks to their durable materials. Now that we've got that out of the way, let's get to the reviews now.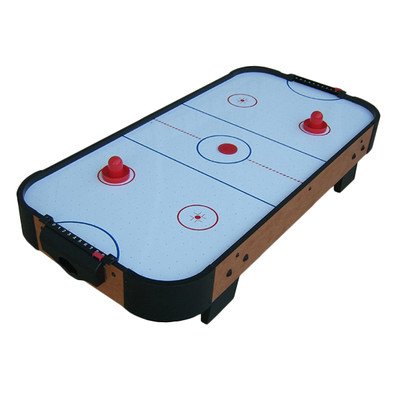 Playcraft is a familiar name to anyone into game room products because of their dedication to building a strong brand on principles of superior value and workmanship. Their mission is to produce high-quality games tables and accessories for commercial, institutional and home use and maintaining the most affordable prices.
The Playcraft's air hockey table is a great entry-level game table that's especially well suited for younger kids. It has some powerful features and is one of the best on the market and that's why it is a great choice if you're looking for solid quality on a minimal investment.
The table is pretty small at just 40" in length and the same can continuous about its accessories. An adult playing at it might look silly but for little children space is more than sufficient. You could say it is basically a toy as it's clearly not meant for competitive play. But don't be fooled though, it's still a well-built toy.
The table boasts a robust construction, as opposed to many other cheap models on the market which are simply made of poor-quality plastic. Considering the MDF frame, the breakage chances are significantly reduced as the table will remain sturdy during intense usage. The motor is decent, don't expect some high-powered tech, it's rather weak for an air hockey table but it does a fine job overall and that's all that matters in the end. The motor should get you somewhere around two years of usage so taking into account the price I'd say that's to be expected.
The area where the Playcraft table seems to excel is the actual play. For those looking just to have fun it's truly a perfect solution and of course, the children will benefit enormously as it fits their needs like a glove. The strikers are small and designed for smaller hands, obviously a sign of a product built for kids. The puck is not going to glide smoothly over the surface but that's understandable, small children won't mind these little details because all they care about is to have a blast playing air hockey.
To conclude this review, I'll start by mentioning once again that this won't really cover your needs if you are some air hockey enthusiast. There are better choices for that in this list. But if you aim to get an affordable game table for your small kids to enjoy some quick air hockey fun, you really can't go wrong with this Playcraft Sport which is solidly built and offers your money's worth.
Specifications list:
Sturdy hardwood frame
UL-approved
Air-powered motor
ABS puck catcher
2 strikers and 2 pucks
40 x 8 x 20 inches (W x H x D)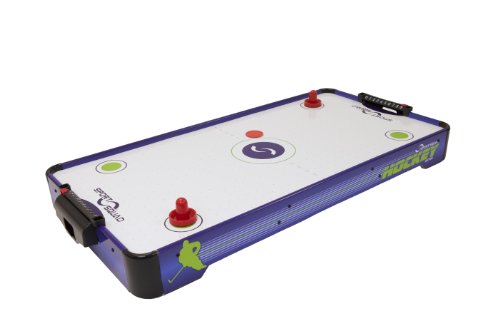 A rising star in the world of game room equipment, Sport Squad is set on providing customers with products that can be enjoyed together with friends and family. Striving for innovation and specializing in a variety of games such as air hockey, foosball, and arcade basketball, Sport Squad is a brand to watch out for in the market for game tables because they have some interesting and affordable products.
One of their most appreciated models for air hockey is the HX40 electric powered table. Its main highlights are the convenient table top design, the high-performance fan, the ease of assembling and the overall solid quality of the construction and its accessories.
This model is designed for people of all ages and sizes and brings the excitement of the air hockey game for home, office, or anywhere else. Made of the best quality wood available, the table scores good points on durability. Because Sport Squad understands how intense air hockey matches can get sometimes, the HX40 is equipped with nonmarking rubber pads on its feet that should prevent any scratches or harm to your floors, tabletops or other pieces of furniture.
To maintain an even and constant airflow, the company implemented an electric motor for smooth gliding on the surface of the game table. Another useful advantage of the HX40 is the enhanced portability as it can be moved, packed, or stored with ease for those who need to save some extra space.
Considering the functionality of this air hockey table, there are a couple of features that add to the fun and overall enjoyment of the game. Keeping track of the score is a simple task as there are manual scorers integrated above the goal boxes. Speaking of goal boxes, they are very capable of returning the puck quickly and efficiently so the action maintains a fast pace.
Included in the package are two pucks and two pushers complete with an AC adapter. The assembly of the HX40 table is manageable even by complete novices but you need to be careful as you have to screw the goals in. Considering all that's been said about Sport Squad's HX40 air hockey table, it is a decent buy and recommended if you want some good fun together with your friends and family.
Specifications list:
Tabletop design
High-output fan
Smooth surface
Quick and easy assembly
2 pucks and 2 pushers
Goal boxes with manual scorers
Dimensions of 40 x 20 x 5 inches, weight of 10.7 pounds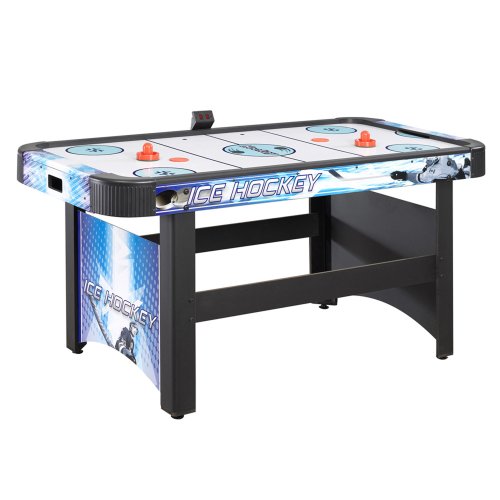 With a wide selection of performant and reliable games tables and accessories, Hathaway is a competitor worth looking out for in the market for air hockey tables. Their 5 Feet Face-Off game table has some eye-catching features and is a decent choice for a more seasoned air hockey player looking to take their hobby to the next level.
The Hathaway Face-Off has the potential to considerably improve the enjoyment of any air hockey game. Let's go over its features to see exactly how they all contribute to a better game experience. This model has a rugged construction using only certified environmentally friendly materials and is engineered to withstand some intense matches. It looks pretty good thanks to the poly-sealed smooth playing surface.
The 5 Feet table is powered by a performant 110V UL-approved blower fan that's able to direct continuous air flow across the entire playing surface with ease. For added stability and to withstand rigorous table play, the L-shaped legs are reinforced and provided with end and side panel supports. Large leg levelers also ensure fast table leveling on any room floor. One of the most interesting features is the electronic scoring system which is capable of keeping track of who's ahead in the match in a quick manner.
It's quite clear that Hathaway has put a lot of effort and paid attention to details in designing the Face-Off air hockey table. Included in the package are a set of two strikers (3 inches) and one set of two pucks (2.5 inches). The assembling part can be a bit more difficult but that's to be expected as this product sits in a higher price range and employs overall the use of more sophisticated elements in its construction. If you think this table fits your budget and more importantly your air hockey needs then I can't recommend this enough as it has all it takes to get you back in the thrill of air hockey.
Specifications list:
Electronic scoring system
Dual goal boxes
Built in automatic puck return system
Made of 1/8 inches CARB MDF laminated
110V output electric blower
Two 3 inch strikers & Two 2.5 inch pucks
Dimensions of 63 x 32 x 6 inches, weight of 60 pounds
Gold Standard Games has a long tradition in the manufacturing of high-quality games and it has been acquired by Mark Robbins, an air hockey master. The company has been revitalized with recent lines of premium quality air hockey tables designed to achieve the standards of the most players.
A perfect example of Gold Standard Games' powerful engineering capabilities is the Home Elite Air hockey table model. It comes with one of the most durable constructions on the market, having a special wear-resistant laminate top built to last for years. Designed according to air hockey champion Mark Robbins' vision, this model is definitely intended for competitive play but it can be enjoyed by beginners and pros alike.
The Home Pro Elite has a low-profile with a solid look suggesting incredibly high-quality workmanship. For superior bounce and bankability, it makes use of professional-style aluminum top rails. Gaming experience with this table is superior on all accounts. Among the other features is worth mentioning the centerline and face-off circle and the full size 3-3/16″ diameter puck.
The motor of the Home Pro Elite is a strong 110V that should handle the job flawlessly never letting the puck leave the table even after prolonged sessions of playing. The only disadvantage is that is quite loud so you can't really have people in the same room sleeping or focusing on other things. An electronic scoreboard is integrated for convenient displaying of who's taking the lead and included in the package are all the necessary accessories.
The build quality and the overall performance is truly outstanding and the price is on par with the premium features. If you have a bigger budget and want to play air hockey for years then this is absolutely the best investment you can possibly make. The Home Pro Elite table is endorsed by air hockey legends Danny Hynes (10-time USAA World Champion) and Tim Weissman (10-time Champion) and for good reason because it is an extremely well-crafted product.
Specifications list:
Made with the help of Air Hockey Master Mark Robbins
Centerline and face-off circle for competitive play
Solid low-profile, professional-style aluminum rails
Electronic scoring with sound
Special resistant laminate top
Dimensions of 87 x 48 x 19 inches, weight of 350 pounds
Designed and engineered by a very passionate business right here in the USA, Harvil products are built to satisfy the needs for game room equipment everywhere. In this review, we'll take a look at one of best the company has to offer for air hockey enthusiasts. Their 4-foot game table can be used by kids and adults alike and has an electronic scorer and includes strikers and pucks.
Having a compact design, the table should fit well in most rooms and is great for those who don't want to sacrifice too much of their living space. The size is quite balanced as the table is not too large to overtake a room or too small to be able to comfortably play on. It features a smooth surface with vibrant graphics. Something to keep in mind is that the size of the table, in reality, could be smaller than you might expect so just make you sure you understand the measurements accurately before you decide to purchase it.
Because stability is essential during gameplay, Harvil added adjustable levelers to the L-shaped legs to fix any disruptive wobbling caused by uneven floors. A steady and even airflow is provided by the 100V electric blower for optimal puck sliding during air hockey tournaments with friends and family.
Keeping the score is a simple task as this air hockey table uses both an electronic digital scorer and a manual slide scorer. Every time a puck drops in a goal, the electronic scorer registers a point so you can immerse yourself in the thrill of the game without needing to bother with taking note of points. The manual scorer is, of course, present for those who like to keep track of who's taking the lead in a more classic but still very reliable way.
Two orange pucks along with two orange paddles remove the need for additional purchases and complete the fun package. Assembling this air hockey table is a breeze and overall this is an excellent product recommended for anyone no matter the age who loves air hockey.
Specifications list:
Compact Design
Electronic scoring
L-Shaped Legs with Adjustable Levelers
Steady Airflow – 100V CUL-certified electric blower
2 pucks & 2 paddles included
Playfield Surface: 47 L x 23 W x 0.63 H Inches
Weight: 28 Pounds
Carmelli is a company with a strong passion for bringing the quality of arcade hockey directly into your home. One of their most performant models is this 5 feet electric scoring air hockey game table that has some promising features to offer for a fair price.
The first thing you'll notice about this table is the sturdy construction. For a product like this, it's an important aspect as games can sometimes get very intense. Thanks to the extra thick CARB" certified MDF material with a laminate coating, the table won't shimmy or twist. Having rugged reinforced legs adds another layer of stability and completes the overall durable look of the NG1009H. Big levelers on the L-shaped legs will prevent wobblings for the playing field on any room floor.
A high output electric blower (110V UL) allows for smooth moves of the puck on almost the entirety of the table. The puck might get stuck sometimes in the corners but there is the possibility of adding a second blower. Carmelli provides an electronic scoring system to keep the score more easily during matches and avoid the distraction of having to take notes who's in the lead. Dual goal boxes are equipped with a built in automatic puck return system. The table is smoothly finished with great hockey graphics and plenty of attention to detail adds to the fun of the game.
It can be assembled quickly without too much hassle and is also packaged with some accessories to get you started: two 3″ pushers and two 2 1/2″ pucks. Speaking of the packaging, Carmelli guarantees a safe delivery to your home by providing dual protection packaging inner cartons.
Considering the price of this model and the overall balanced features, this is not a bad pick at all. It has a solid construction, an electronic scoring system, a decent motor among others and for these reasons it's an ideal air hockey table recommended for enthusiastic players of any ages.
Specifications list:
Made with CARB MDF material
110V UL high output electric blower
Dual goal boxes
Built in automatic puck return system
Electronic Scoring System
Reinforced Sturdy L-shaped legs
Two 3″ strikers and Two 0.5″ pucks
Requires 2 AAA batteries
Dimensions: 60L x 26W x 31H
Providing superior quality manufacturing with cutting edge technologies, Brunswick has only one goal: to deliver the most aesthetically pleasing tables with unrivaled playability potential. Besides billiards tables, they also specialize in other game tables such as those used for air hockey. One of their most striking models is aptly called Windchill and it immediately attracts attention with a luxuriously black and white sleek finish.
Besides the aesthetic appeal of its contemporary styling, the Windchill has plenty of powerful features to justify its rather expensive price tag. It features laminate over MDF for the most durable construction and for long lasting performance it comes along with an exceptionally sturdy pedestal base. The design department is clearly the strongest point of this game table because the mark of Brunswick's high-quality craftsmanship is truly showing.
Performance-wise, the Windchill is still quite adept at providing its users with enjoyable hours of endless fun gameplay. A dual abacus style is implemented for scoring and the continuous flow granted by the capable UL blower makes for some smooth and exciting air hockey.
Proving that they have an excellent attention to detail, Brunswick also includes two mallets and four pucks, essential accessories to complete the joy of air hockey. Assembling the Windchill is not a complicated task but it will take anywhere between 45 minutes and 1 hour. All you need to do is to put the legs on and then attach the puck catchers on each end of the table and you're basically set.
In summary, the Brunswick Windchill is a very powerful competitor on the market of air hockey tables as it offers anything desired by those who have a passion for this game. The pucks slide smoothly and the action has a very premium feel to it like you are in a cool arcade place. It's probably a waste of money to get some cheaper model so if you are looking for one of the best consumer grade air hockey tables out there you can safely make this investment because it's absolutely worth every cent.
Specifications list:
Made With Laminate Over MDF
Contemporary Styling
Sturdy Pedestal Base
Designed With Dual Abacus Style Scoring
Constant Flow UL Blower
2 Mallets And 4 Pucks
Dimensions of 83.75in x 41.75in x 30in and approximate weight of 149 Lbs
There's hardly a better way to enjoy the action-packed fun of the arcade right there in your own home than by getting yourself a professionally designed air hockey table. Atomic is a company with a lot of experience in the industry and one of their most fully featured model worth the list of best air hockey tables is the Top Shelf 7.5′.
One of the most striking aspects of this model is the slick play surface constructed out of high-quality PVC laminated MDF. Atomic made no compromises on durability as it's clearly shown by the sturdy large legs that act as support. The high-speed play is enhanced by the 120V motor that creates a maximum air flow for constant puck action.
One other interesting feature is the LED Lumen-X technology which Atomic incorporated to illuminate the table with multicolor light effects (Red, Green, and Blue). Another great addition to the fun gameplay is the high-tempo music for extra intensity. This technology allows for playing air hockey in the dark and taking competition to another level as the interactive lights change their colors during gameplay when a player scores a goal. As you've probably guessed by now, these functions aren't really that great for adults but for kids and teens they can be quite exciting.
The Top Shelf has a few goodies included to start playing right away. 2 LED pushers, 2 round pucks and 1 hexagonal LED puck which spins for some extra challenge. It rebounds in an unpredictable fashion so it's only recommended for advanced players who want to try something more difficult.
If you want to get some great arcade experience at home, this air hockey table by Atomic has all the qualities to make you enjoy this fun g9ame with family and friends on a level you never thought possible. The price is a bit higher than a more conventional table but if you have the required budget I think you can safely go for it. It's definitely a product worth the money considering the premium construction and the overall quality of its features. You'll never want to get back to playing on flimsy game tables made of cheap plastic ever again.
Specifications list:
120V motor for maximum air flow
Slick, high-speed PVC playing surface
Multicolor LED Lumen-X technology & High-tempo music
82″ x 41″ playing surface
4 large and durable legs
Accessories: 2 LED pusher, 2 round pucks, 1 hexagonfal spinner LED puck
Dimensions of 90 x 49 x 31.2 inches and weight of 220 pounds