We may receive commissions from certain links you click on our website. As an Amazon Associate I earn from qualifying purchases. Amazon and the Amazon Prime logo are trademarks of Amazon.com, Inc. or its affiliates.
If you are living in an area with a lot of flying insects (including mosquitoes), you need a bug zapper to electrocute them after attracting them with the UV-irradiation. You will find indoor as well as outdoor zappers on the market. Indoor zappers use only UV light to attract insects whereas outdoor zappers also make use of baits and other special attractants to seduce insects. To choose the right bug zapper, it's important that you consider the location. Do you want to place the zapper indoors or do you want to attract insects outdoors with it? You also need to think about the radius of the zapper, the type of bugs you want to kill, and the total number of insects that you are expecting to come to the zapper in a night.
Need curtains to block annoying noise or light to enter in your room, or maybe a new sprinkler system for your garden? Then we have some great articles on noise and light canceling curtains and sprinkler irrigation controllers. Don't forget to get yourself a Christmas laser light before the Christmas frenzy begins.
Below is a list of some of the best bug zappers that you could find in the market.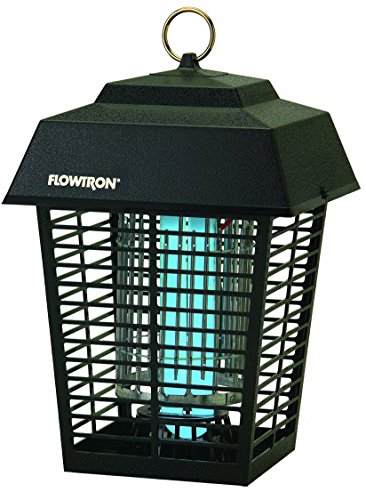 Buy On Amazon
The Flowtron Electronic Insect Killer has a working radius of 0.5 acres. It's an incredibly useful zapper for anyone who wants to zap outdoor insects. It can attract and zap hundreds of insects in a night so that they won't bite or irritate you or your friends and family around. The device has an operating power of 15W. It's extremely energy-efficient so that it won't cause dramatic costs to your electricity bills. This device doesn't have a risk of short-circuiting because of the patented non-clogging killing grid technology. The Flowtron is a safe device when used outdoors. This bug zapper has a high-impact construction that makes it stand against harsh weather conditions and prevents damage when birds or pets hit it. It has a durable outer grill that prevents birds and other wildlife from touching the charged grid inside.
Installation is simple when you buy the Flowtron Electronic Insect Killer. You just plug it into a power outlet and hang it away from your door. Don't use this device indoors as it throws away insect bodies when zapping them. The sound of an insect being electrocuted could also prove too irritating inside of your house. By the way, this article is very informative on the effectiveness of bug zappers. After installing this electronic bug killer, you may have to clean the grid daily, especially if you live in an area with a lot of insects, such as closer to a swamp. If you don't clean the grid regularly, dead insects will block the UV light and render the equipment useless. To get the best results from this product, you will need to replace the cartridge every month. If you can't figure out how to replace the cartridge, look in the user manual for more info. Ultimately this is a great device when you are looking to electrocute outdoor bugs and mosquitoes. Just be sure to hang it in the right place where bugs can see the light, and it will do the rest of the job.
Features List:
Half acre coverage area

Kills most flying insects including mosquitoes, wasps, and bugs

Operates at 15W

Non-clogging electric grid

High-impact construction

Protective outer grill

Best for outdoor use
Buy On Amazon
If you are looking for a powerful insect zapper, then this Aspectek Indoor Bug Zapper is a great solution. It operates at 20W and makes use of two UV bulbs so that it can attract bugs from every corner. The device has an effective range so expect a lot of bugs to be zapped by the powerful 2800 V shock.
It is easy to use as it doesn't require any maintenance and the installation is easy. When you receive your zapper, simply unpack it, hang it in a central location, and plug the cord. You can remove the dead bugs by simply cleaning the tray where it dumps the insects. This removable tray is easy to wash and clean. After cleaning it, simply slide it back in the zapper. You can hang the Aspectek on the wall using the hanger that comes with it. If you don't want to hang it, you can just place it on a table or wherever you like. Also, ever wondered how effective are bug zappers and whether they really work? Check out this article.
It comes with two UV bulbs which can be easily replaced since you only need to open the protective grid to reach the bulbs. But make sure you let the device stay unplugged for a few hours before you touch the UV lights to let them cool. Once cooled down to the normal temperature, remove the tubes and replace them with new UV tubes. Remember that this zapper is for indoor use. You can use it in the outdoor environment only if it stays dry where hanged, preferably under a roof. It's safe to use indoors despite being an electrocuting device. It has a powerful electric grid that ensures every bug is zapped as soon as it lands on it. However, it's RoHS compliant and meets safety standards for indoor use. The machine doesn't throw the insects away, and there is no annoying zapping sound for the most part.
The machine is effective against the following types of bugs:
Flies
Mosquitoes
Moths
Wasps
Other flying insects attracted by the ultraviolet light
Features List: 
Ideal for indoor use

No zapping sound

2800 V shock kills all indoor flying insects

Two bright UV lights to attract all types of flying bugs

Removable cleaning tray
Buy On Amazon
If you are looking for a high-quality and durable bug zapper, then you should check out the PestZilla Robust UV Electronic Bug Zapper. It operates at 20 Watts and provides coverage for a large area. It can attract insects as far as 6,000 feet away. It's a great device for indoor use, but you can also hang it in the outdoors if it stays dry. PestZilla is a practical way to live in an insect-free environment. This zapper comes with a high voltage zapping grid that's made of high-quality metal. When insects come in contact with the grill, they are zapped instantly. To attract the bugs, this machine makes use of two super bright UV bulbs.
The PestZilla is easy to set up. It comes pre-assembled and ready to use. Simply unpack the machine and plug its power cord to start zapping the bugs. You can hang it on the wall or leave it sitting on a table. It comes with two chains that let you hang the zapper from a ceiling mount as well. It is lightweight which means you can easily move it around and take it to the area of your home where most insects roam around.
Removing the dead bugs is easy as the product comes with a removable tray where the dead bugs fall. This tray is washable, so it's safe to rinse it every time you need to remove the insects. You may have to clean the grid every day if you are living in an environment with a lot of flying insects. It is very safe for indoor use. The electric grid has a protection around it, so you won't feel the shock even when you touch the grid by accident. Moreover, the zapper doesn't use any harmful chemical, and therefore it doesn't poison your air and claims to be 100% odor-free.
Features List:
Operates at 20W

Covers an area of 6,000 sq. Feet

Great for indoor use

Lightweight and durable

Two bright UV bulbs

Hang it or put it on a flat surface
Buy On Amazon
For great insect control, there could be nothing better than this bug zapper. It will keep your environment free from mosquitoes, flies, wasps, and other flying insects that annoy you. This device attracts insects using its powerful bright UV light. Once they land on the electric grid, they get electrocuted. The network is capable of delivering a 2,800 V shock that is enough to kill even the largest of the insects.
A Powerful Electronic Indoor Insect Killer is better than toxic sprays that overload your environment with dangerous chemicals. When you breathe and take these chemicals in, you risk sickness and long-term health hazards. With this electronic zapper, there are no harmful chemicals to worry about.
It is easy to use and it comes ready to kill bugs. It comes with chains to hang it from a wall or ceiling mount, but you can also place it on a surface such as a tabletop or a fridge top. To use the zapper, simply plug the cord and wait for the bugs to fly into the zapper. As soon as they come in contact, they will get electrocuted. They will fall on a tray that's placed under the UV lights. You can quickly pull out this tray to remove the electrocuted insects.
It is safe for indoor use, thanks to the protective grill that makes it impossible for you to touch the UV bulbs or the inner electric grid. It doesn't produce annoying zapping sounds, and dead bugs get contained inside the machine instead of being thrown out in parts. The device meets various safety standards for indoor electronics such as RoHS and CE.
Features List:
Operates at 20W

Kills flying insects fast and hassle-free

2,800 V shock electrocutes even the toughest indoor flying bugs

No annoying bug zapping sounds

Meets CE and RoHS standards
Buy On Amazon
This is an amazing electrocuting device that can kill even the strongest of the bugs. It can cover up to 6,000 so. Ft. area, which makes it perfect for vast areas with a lot of insects. It operates at 40W, which makes it one of the most powerful zappers in the market these days.
The device makes use of two UV lamps to produce dazzling light. This light attracts all types of flying insect. When they come near the zapper and try to touch the UV light, they are met by an incredibly powerful electric grid that zaps them. The bulbs last for up to 10,000 hours, so you don't have to worry about changing them within the first week of purchasing them, as is the case with many cheap zappers.
The unique feature of this zapper is its magnetic transformers. It stays cool even when the outdoor temperature is high, and it has a very long life. So you don't have to worry about changing it every other month. In fact, you can forget about it for next 25 years as that's its estimated lifespan. I think a lot of people wonder about the effects of bug zappers, so this article explains if bug zappers are dangerous or harmful.
It produces an electric shock at variable voltage range between 2,500 and 4,000 Volts. This is enough to zap flies, moths, wasps, and other flying insects that could make your life difficult. This zapper is waterproof, which means you can use it indoors as well as outdoors. Just hang it on a tree or a wall in your lawn or backyard. For indoor use, you can just place it on a solid surface or hang it from a ceiling or wall mount.
The product has dimensions of 10x10x14 inches, which makes it small enough to be used indoors and it weighs only 6 pounds. It doesn't need maintenance, but you will need to clean dead bugs that will deposit on the electric grill. You can use a can of compressed air to clean it.
Features List:
Operates at 40W

Covers an area of 6,000 sq. Feet

Kills all types of flying insects

Protective outer grill to keep birds and pets safe from the powerful electric shock

Waterproof device, perfect for outdoor use

Two bright UV light tubes with 10,000 hours life span  
Buy On Amazon
The Executioner Fly Swat Wasp is the ultimate swatter as it zaps bugs the first time they come in contact with the racket. Unlike this swatter, some other swatters in the market require you to try several times to zap insects. This zapper has high-quality build material, which will ensure proper working for years. The zap grill is made of high-quality steel, and the holding structure is made of high-quality ABS plastic, which is much stronger and elastic compared to the recycled brittle plastic. You can use it at home, in the office, or in an outdoor setting where you need to keep away from flying bugs and insects.
As far as maintenance is concerned, this product will give you complete peace of mind. The insects don't get stuck in the grill because of its unique construction. However, if you need to clean the grill, be sure to turn off the device. Other than cleaning, you will need to replace batteries when you run out of the ones that come with it. You can easily find AA batteries at a convenience store near you. Replacing the batteries takes less than a minute.
The Executioner is easy to use as it comes with an on/off button and a powerful LED light that indicates when the device is turned on. It can electrocute even the bigger wasps that are difficult to handle with a low-grade zapper. The company has tested this product for over 100,000 zaps so you can be sure of its high-quality and long life. This zapper produces the shock that zaps the insects that come in contact with its grill. The product has cleared trading and safety standards.
Features List:
Tested for over 100,000 zaps

Operates using two AA batteries

High-quality steel grill and ABS plastic holding grip

LED indicator
Buy On Amazon
The Eliminator Electronic Fly and Bug Zapper is a powerful electrocuting machine that can help you get rid of all flying bugs and insects. Once the bugs have landed on the machine, they are treated with a high voltage shock. This shock zaps bugs within a second.
This product is safe for indoor use as it comes with a protective grid that keeps you away from the electric grid and the high shock. The dead bugs from the machine can be removed easily using the removable tray at the bottom of the device. You can also clean the electric grid using a cloth or compressed air. You can keep the machine switched on throughout the day and night.
When you buy the Eliminator Electronic Fly and Bug Zapper, you can use it at home or office to remove bugs from the environment. You can also safely use it at school or in the kitchen. It has a range of 5,000 square feet, which is sufficient for most indoor settings. However, you may want to install the device at a location where the light is visible from all parts of the building. If bugs can't see the light, they won't be attracted to it.
The device operates using two 10W bulbs that emit UV light. These bulbs have a long life, but you will eventually need to replace them when the light dims out. To replace the bulbs, you need to turn off the device and let it cool down before you reach the bulbs. The good thing about this zapper is its versatility. You can use it indoors and outdoors. When using outdoors, be sure to place it somewhere it won't get wet. The device comes with a four ft. long cord but you can always use an extension cord for outdoor use.
Features List:
Covers an area of 5,000 square feet

Kills all flying insects and bugs

Perfect for indoor use

Two 10W UV light tubes

Removable cleaning tray makes it easy to remove dead bugs