We may receive commissions from certain links you click on our website. As an Amazon Associate I earn from qualifying purchases. Amazon and the Amazon Prime logo are trademarks of Amazon.com, Inc. or its affiliates.
Use this navigation bar to get to the section of the article you need:
Best Cheap/Affordable Futon
Best Futon Couch
Best Comfortable Futon
Best Futon for Sleeping
Best Memory Foam Futon
Best Extra Large Futon
When moving to a bigger house is not an option but you still need an extra bed, a good compromise to work with in a more limited space is choosing to buy a futon mattress. The way they work is similar to a convertible sofa, you can transform it into a bed at night and use it for sitting during the day. They are an excellent option for making a guests bed too.
The basic components of a futon are the mattress, the frame, and the cover. Usually, the mattress is the most important item because that's where your comfort comes from. Spending extra on a very high-quality frame is not necessarily always recommended. You should always invest in a quality mattress that gives you a restful sleep. Finding one online which can be considered suitable to your needs can be simplified if you are aware of what to look for. You might also want to read our articles on the best insulated curtains or best whole house humidifiers.
The essential characteristics for choosing the right mattress are thickness, type, and frame. A thicker mattress means a better support and is more comfortable overall. If you're going to use it more often, going for an innerspring futon with coils is a better idea as it offers more support, similarly to a normal bed. The other option, foam-based mattresses, are a decent alternative though they are not that recommended in the long run. Frames can be made most commonly from either wood or metal. You can trade strength for looks with wood though some rooms can fit better with metal frames. It comes down to personal preference in the end, but no matter which frame you intend to buy, make sure it's sturdy and good quality.
In this article, the best futon mattresses for every kind of budget have been selected after considerable research. Your time is important and that's understandable but way too often you can make a mistake in a hurry and end up with a product that you regret purchasing as it just didn't live up to the expectations. This list contains only the futon best mattresses for the money, all the important aspects that factor into a purchase decision for a new futon have been taken into account. Without any further introductions let's get started and see what the market for these practical furniture pieces has to offer.

Best Cheap/Affordable Futon
Buy On Amazon
One of my favorite picks is DHP's Futon Mattress which in my opinion is one of the best in terms of value for the money. It is comfortable, affordable and it offers everything you might expect.
The material used in this mattress is 100% polyester which has been put among the inner parts to ensure the best comfort. Thanks to the individual coils, the mattress also acts as a solid support and is the ideal complement to any futon. The pocket coils are enveloped in a soft microfiber mattress cover.
In the case of this mattress, no phthalates are used. Regarding the safety of the foam, you should know that DHP uses very high standards in the fabrication process. The foam doesn't contain any dangerous chemicals, no lead and heavy metals are present or any ozone damaging materials. Considering that the foam is very low in VOC emissions for the quality of the air, then it's pretty clear that this is an outstanding product. Also, flammability standards are also met.
This comfortable mattress has the potential to give you a very satisfying rest unheard of for a futon mattress. Affordability is another strong point of this DHP premium mattress but keep in mind that you will need to purchase the futon arms and frame. Overall, this one is an excellent choice as you get a lot for what you pay.
Specifications list:
Independent coils
Quality foam and polyester
Suitable for most standard full size futon frames
Microfiber mattress cover
Best Futon Couch
Buy On Amazon
DHP products are made to match style and versatility with space and lifestyle. Their products are very diverse, so no matter their needs, customers can find interesting and functional furniture pieces fitting for their living spaces and budgets.
DHP's Emily Convertible Futon brings a very modern look which can integrate well in most rooms. The chrome metal legs, in particular, add to the elegance. The options are as follows: black and vanilla colors made with faux leather or navy and gray variants which are available in linen.
What's great about this sofa bed is how easily it can be adjusted from sitting to other positions like lounging or sleeping. For more versatility, there is also a split back. The cushions match the initial impression of quality as they are full and stay firm even after long periods of use. The foam and polyester filling of the Emily futon are extremely comfortable, designed for the comfiest experience.
Assembling this futon is a breeze. You won't require some special tools as everything needed is in a well-organized package. Setting the sofa bed is simply a matter of minutes. For cleaning, a damp cloth will suffice as the upholstery is very easy to clean. The sturdy wood frame construction was built to last, so the DHP Emily is definitely here to stay in the long term.
This convertible modern futon couch can fit nicely into any home or office space thanks to the modern approach to its look. The comfort and ease of use are also another strong points of the Emily futon and considering the good price, this is definitely one of the most recommended options out there.
Specifications list:
Modern look and design with chrome metal legs
Split-back
Easily converts from sitting to lounging and sleeping
Black and vanilla available in faux leather, navy, and gray available in linen.
Best Comfortable Futon
Buy On Amazon
Jerry Sales has been in the business of furniture for quite some time and their experience is showing in multiple areas especially in the futon mattresses department. Their Leather 5000 Series is a very well made 8-inch innerspring mattress made with bonded leather.
It has a premium Active Support technology and insulator pads with high-density foam which provides decent comfort. Sitting on it gives a nice impression of both comfiness and sturdiness. The garnetted cotton has been hand tufted and the mattress meets all CSPC flammability standards. Choosing a product made in the USA such as this one is also a smart thing to do because you will get superior quality and support the local industry.
There are two colors available, Java and Saddle. In the looks department, the 5000 Series gains a lot of positive points as it gives off an expensive feeling. It doesn't look as flat like the photos, is much fuller and won't have any odors. In fact, the leather is very dog-friendly as it will stay clear from collecting dog hair or smells. Combined with a suitable futon frame, this will certainly appeal to a lot of people hoping to replace their old, dusty mattress with a brand new one which should last them for years to come.
The price is a bit higher but considering the quality of the materials and the very enjoyable comfort and support, this is definitely a solid investment. If you are looking to get a quality innerspring mattress, then look no further as this one will surely pair extremely well with your futon for a very pleasant experience.
Specifications list:
Bonded Leather Fabric with slip-free back panel
Active Support Technology
Insulator pads with high density foam
Garnetted Cotton Hand Tufted
Buy On Amazon
The Pearington Bella Futon is a very classy sofa lounger which can add a lot of comfort to any home for a reasonable price. Besides how comfy it is, its features list also includes versatility and a powerfully enhanced visual display of elegance.
If you seek sophistication in your modern home or office, then you've pretty much found the ideal product. Pearington Bella is a multi-positional convertible futon which can transform in just a few seconds from comfy seating to reclining backrest or to a sleeping bed.
The upholstering is vinyl bonded leather with a very premium finish and for more visual appeal, Pearington included stainless steel legs on both the front and back of the futon. The pillow top design with foam cushions provides extra comfort and support due to the high-density of the foam.
Keep in mind that you will have to do some assembling but nothing too complicated. Something people might expect bad smells when it comes to vinyl furniture but this one won't have this issue. The overall structure is also very sturdily planted in the ground so there's minimal flexing for a comfortable sitting or resting.
All in all, if acquiring a new futon sofa lounger is in the plans for you, the Bella by Pearington is a very good choice. Looks are amazing, the comfort levels are on par with what you spend and considering everything else this is absolutely a great buy.
Specifications list:
Reclining backrest which you can bend very fast
Upholstered in bonded leather
High-density foam cushions for added comfort
Stainless steel front and back legs makes for a nice design
Buy On Amazon
DHP is a leading manufacturer of quality products for home furnishing. Thanks to an impressive fusion of quality and design, DHP is able to deliver comfortable and valuable furniture for every living space.
The DHP Allegra Futon is a very classy piece of furniture upholstered in black microfiber and coming with a particularly robust wood frame. Definitely a pleasant sight, the Allegra has pillow top cushions fabricated out of high-density foam which guarantee long-lasting support and durability.
As I've mentioned earlier, the Allegra has a solid wood frame construction and to more easily blend with the room, it's enveloped in lush microfiber. Converting the futon from lounger to sleeper is a simple task due to the multi-position back which allows for quickly changing the position of the Allegra.
Assembling this piece of furniture is not a big deal. Basically, all you need to do is to screw on the legs. The futon arrives in a special cloth to protect it which will make it difficult initially to sit on it as it looks so soft and comfy that you will be afraid to ruin it. The size is adequate to a smaller apartment so be sure to check out the measurements correctly so you won't have any surprises.
This is a versatile and extremely practical product. It can add a nice touch of luxury to your room or office space thanks to its sleek design. But of course comfort is still the most important aspect and in terms of comfiness, no matter the position, the Allegra won't disappoint, allowing for a very pleasant sitting or resting experience overall.
Specifications list:
Upholstered in black microfiber
Pillow top cushion for comfort
Quality wood frame construction
Converts easily to lounging or sleeping position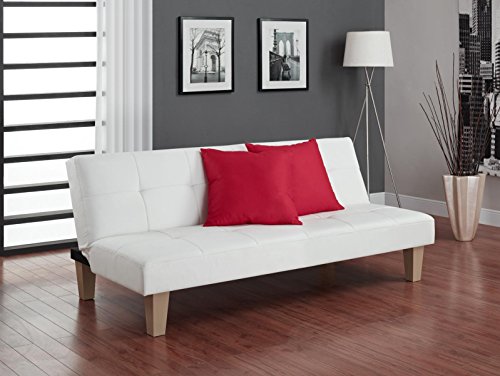 Buy On Amazon
The wide collection of unique and functional furniture pieces of DHP has another great addition. The immaculate white Aria futon represents a superb fusion of comfort and style. Its affordable price makes it worth the money spent.
In case you need a smaller futon suitable for more tighter spaces, the Aria is an ideal choice. Is sturdy, durable, and thanks to its sleek modern appearance, it will easily blend in with the rest of the room decor. The faux leather upholstery is pleasant to the touch and simple to clean using only a damp cloth.
Converting to more positions including a sleeping one is also possible for this futon. The white design with some detail stitching has a certain appeal maybe more fitting for an elegant office but it can match well a smaller apartment. The assembly can be done quickly and conveniently without the need for complex tools. Within minutes you can enjoy the luxurious and comfortable Aria futon.
The frame construction made of wood should ensure long term durability for this gorgeous piece of furniture. A small drawback I would consider for the Aria futon is the way the legs look as the color, in reality, is a bit different than the one in the pictures.
A great product for the price, the DHP Aria futon is an excellent addition to your home though I need to stress it further that the size is quite small. Don't expect something huge. Comfort-wise is decent, the design is very chic and the overall quality of the materials is on par with what you pay. A very recommended option.
Specifications list:
Tufted, white faux leather upholstery with quality stitching
Sturdy wood frame great for tight spaces
Easy to clean and maintain
Converts easily to multiple positions
Best Futon for Sleeping
Buy On Amazon
If western style futons aren't really your thing, maybe going for a more traditional Japanese futon is the right solution. EMOOR has an interesting product called "Classe" that seems to fit your needs if that's what you're looking for.
The mattress is 100% polyester and is stuffed with a special antibacterial quaternary ammonium salt. No strange smells are present as the futon has been deodorized and firmly designed to last a long time. It uses high-quality 100% hygroscopic cotton for the outer fabric. The softness and the comfort are exceptional as this futon has been manufactured by Japanese craftsmen.
EMOOR designed the futon with a reasonable level of thickness in mind to maintain a balance between softness and firmness. Folding the mattress can be done easily especially considering that it comes pre-packaged in a folded position. Curiously, there is no noticeable fold flattening in areas where the cotton thins.
If portability is an essential aspect for you, this one is a good investment as it allows you to carry it with you in a more practical manner when moving apartments. In case you need to, you can also spread it over an existing bed mattress as this futon is quite suitable for that too.
The mark of authenticity is obvious for the EMOOR "Classe", a lightweight and comfortable futon which will ensure a very restful sleep. The price is not particularly high, quite justified considering the features of the futon. A fully recommended choice for everyone who leans more on the traditional side for their sleeping habits.
Specifications list:
Uses Quality Cotton Fabric for the Outer Fabric.
Suitable for spreading over the bed mattress.
200 Thread Count Cotton Broadcloth
Japanese style inspired
Best Memory Foam Futon
Buy On Amazon
An excellent futon mattress comes from Royal Sleep Products, a beautiful model with beige upholstery fabric and two matching pillows included. The futon is made in the USA, a sign of reliable quality.
The materials used in manufacturing are the following: four layers of a premium blend of cotton and polyester, two layers of Memory Foam and another layer which is made of polyurethane foam. This combination makes for a very comfortable mattress while also keeping it sufficiently firm to sleep well on it.
There are two variants for this futon mattress: full and queen and they're both using Cancun Maple for color. Each variant features the innovative cotton wrapped foam construction and a complimentary cotton cover fitting for any style.
You should probably be aware that only the mattress and the pillows are included in the package, the frame seen in the picture needs to be purchased separately. Unfortunately, you will have to do some digging to find a fitting frame as Royal Sleep Products only produce the mattresses and don't offer any frames for sale.
The secret to the comfort of this furniture piece stands in the thickness of the mattress. It's actually not very easy to fold being so thick but this characteristic ensures a comfortable and restful sleep. Durability-wise, it seems quite sturdy and should last you a considerable amount of time.
All in all, taking all the elements that define this mattress into account, it's safe to say that this is an excellent investment. For this money, you're getting a lot, a great mattress, quality upholstery, overall a satisfying piece of furniture that can fit into most homes with ease.
Specifications list:
4 layers of quality cotton and poly blend, 1 layer of polyurethane foam and 2 layers of Memory Foam
Tufted in white thread
Cotton wrapped foam build
Many size options
Best Extra Large Futon
Buy On Amazon
Beter Homes and Gardens offers a very stylish and functional option for those in the market for a new futon mattress. This wood arm futon comes complete with a thick coil mattress ready to decorate any modern living space.
The first thing you will notice about this furniture piece is its contemporary design which stands out due to a rich wood finish. The wooden arms are solid enough but for added durability, there's a metal frame which significantly boosts the overall sturdiness of the whole structure.
The eight-inch mattress is decently comfortable, striking a good balance between softness and firmness and it has the right thickness to guarantee a comfy sleep. A versatile futon, you can switch it up however you want, for example, keep it as a sofa during the day and converting it into a full bed at night. The quality foam, coupled with 522 coils which are independently encased should deliver plenty of support for any position. A soft twill cover completes the overall look blending well with the surrounding environment.
My only complaint with this beautifully crafted futon would be its bulkiness. That's to be expected though when considering the size so you should be careful when you assemble it as you might experience difficulties when moving it from room to room.
An outstanding product on all accounts, the Better Homes, and Gardens futon has all the qualities to be considered as a potential purchase. The price is reasonable considering what you receive so no issues here. This is a good bargain for a comfortable futon mattress that will last you many years to come.
Specifications list:
Can be converted from sofa to a bed fast
Beautiful modern design and rich wood finish
Wooden arms and strong metal frame
Independently encased coils
Great quality cover
Buy On Amazon
The Mozaic 12-Inch Futon is a generously sized furniture piece that promises great value for its price. It comes in various colors, it's completely reversible and makes use of cotton wrapped foam. As guests resting place, this one is definitely ideal.
The mattress is very soft with a lace tufted fabric onto it – because of that, the futon resembles a sofa very much appearance-wise. Folding this piece into sofa or bed positions can be done easily because the design is convertible. Most futon and platform bed frames will work well with this one but you will need to make a separate purchase for one (in case you don't have one already) as Mozaic doesn't provide one in the package.
The blend of polyester and cotton for the upholstery adds a certain elegance to the futon and the fill materials are designed to give your mattress a longer life besides the best comfort possible. To maintain the clean look it's recommended not to use any kind of abrasive cleaners and to never leave spills unattended. In fact, as a general rule of thumb, Mozaic suggest to keep the futon away from heat and liquids and also from direct sunlight which can cause fading.
Something interesting about this futon is the extra care that the manufacturer provides in shipping the piece. It comes in a special vacuum packed bagging and it may take a few days for the mattress to get in the right shape, to get the wrinkles in the cotton cover to disappear.
Considering everything, this is a quality product. Mozaic did a solid job with this futon mattress and when taking all aspects into account it becomes clear that it's worth its money. For that reason, it's highly recommended as an excellent long term investment.
Specifications list:
Reversible for extended wear
Cotton blend upholstery in black, fiber and foam
Assembly is not necessary