We may receive commissions from certain links you click on our website. As an Amazon Associate I earn from qualifying purchases. Amazon and the Amazon Prime logo are trademarks of Amazon.com, Inc. or its affiliates.
Best Buy Hard Drive Docking Station
With a considerably wide range of applications, hard drive docking stations are very valuable devices for those who need access to a large amount of data. They combine the functions of an external hard drive enclosure with the abilities of partition imaging software. There are many reasons to consider purchasing a hard drive docking station especially if you have a small business or work in the tech service industry. This article will present some of those reasons and after that, you can take a look at what the market has to offer and discover the most cost-effective options for these useful devices.
The docking feature is pretty much essential if you want to get on-hand access to large amounts of data. In this day and age, standard spinning-disk hard drives come with pretty reasonable cost per gigabyte and getting generous multi-terabytes of storage space doesn't represent such a huge investment like in the past. While you keep those drives on hand, you can easily pop them in or out of the hard drive docking station according to your needs. Many people need fast transfer rates so if this is something essential for you, one of the best solutions is a 2.5" SSD that's connected to an eSATA or USB 3.1 interface. You might also be interested in our articles about the best stick pc's, and the best external CD and DVD drives.
For those who wish to be able to provide upgrade or maintenance service efficiently for any computer system, a hard drive duplicator can simplify your job. With just a few minutes of work, you can easily upgrade the internal storage by removing the old drive, inserting into the duplicator together with the new one and just letting the machine do its job. In a matter of seconds, a light should start flashing to indicate that the cloning process is about to begin. Drive cloners have become incredibly popular in many enterprise environments. By a simple push of a button, important drives can be backed up daily.
The market today is overly saturated with hard drive docking stations and choosing the right one can be a difficult task. In this article, we'll look at 10 hard drive docking stations that provide the best in terms of capacity, form factor, and cost-effectiveness. There's enough variation to cover a reasonably large range of needs. Whether you are looking for a basic single-bay dock or a two-bay model which gives you more advanced features, these hard drive docking stations are your best bet if you want a high-quality product that does its job in a reliable fashion.
Buy On AmazonBuy On Walmart
The Sabrent EC-DFLT is one of the top choices for an external hard drive docking station as it offers reliable speeds and quality features all around. It has a separate variant called EC-DFFN that's virtually identical except that it has a cooling fan. The price of the EC-DFLT is extremely affordable if you take into account its fast performance and ease of usage.
This Sabrent docking station is a true plug-and-play device and it's fully compatible with many operating systems including Windows 10 and Mac OS X. It accepts both 2.5 inch and 3.5 inch hard drives so long as the drive uses a SATA interface. A practical enclosure to use, for this model you just have to lift up the flap and connect the hard drive to the SATA port. After plugging in the USB cable and establishing the computer connection, you're all set.
What's nice about this hard drive docking station is that it's backward compatible with older USB versions so it can work with a wider range of computers without problems. Thanks to the USB 3.0 interface, the speeds you can expect are very good, reaching values of 5Gbps for data transfer.
To enhance even more the performance, this hard drive docking station is equipped with USB Attached SCSI Protocol (UASP) and it requires a capable host system for it. Other notable features are the hot swapping, the LED light for power and activity status, and the on/off power switch.
Something to keep in mind about the Sabrent is that it's not really recommended for constant usage. It's geared toward those who need to make infrequent backups and represents a great enclosure for intermittent usage. If you are worried about high levels of heat that can generate especially from high-speed HDDs, then with its cooling fan it could be a more suitable option.
When you take everything into consideration, the Sabrent EC-DFLT is an amazing product at this price point. It works well with many drives and plays nice with lots of operating systems. Decently built and versatile, this enclosure can provide a lot of conveniences and therefore, it's a highly recommended choice for a hard drive docking station.
Key Features:
Standard Desktop 2.5″/3.5″ SATA Hard Drives support
Plug & Play
USB 3.0
Up to 5Gbps transfer rates
Compatible with Windows 10
LED light indicator
Buy On Amazon
Anyone searching for a reliable hard drive docking station should try the Sabrent EC-HD2B. It's designed for quick and convenient plug-and-play functionality while allowing offline cloning. The device is compatible with any standard HDDs or SSDs whether they use the 2.5″ or the 3.5″ SATA interface. File transfers can be done with minimal effort using a USB 3.0 connection.
Keep in mind that you can only use hard drives with a maximum capacity of 10TB with this docking station. Offline duplication of a drive is possible with a special function activated by the dedicated "CLONE" button. As this is a dual hard drive docking station, it enables the user to access two HDDs simultaneously. Overall, the Sabrent EC-HD2B offers great value for the money so it's a convenient solution for docking your hard drives.
Best Buy Hard Drive Docking Station
Buy On Amazon
The Inateck FD2005 is a high-performance hard drive docking station that packs a reliable set of features to consider. It provides universal operating system support and accepts many different kinds of hard drives or SSDs. Just make sure you don't attempt to use it with drives larger than 10TB. In terms of data transfer speeds, this model won't disappoint. It's designed with the ASM1156 chip for UASP support to enhance the performance compared to standard USB 3.0.
Similar to other hard drive docking stations, this model accepts cloning without a computer connection. Another convenient ability is the auto-sleep function. It saves some energy and increases the lifespan of the device. With the help of LED lighting indicators, you can check the status of the hard drive docking station. This is particularly useful during data transfers because the lighting system keeps track of the progress.
Buy On Amazon
Managing your hard disks or solid state drives with ease shouldn't cost too much and Cable Matters seems to agree. Their 202019 model delivers excellent performance for the price. This is a hard drive docking station that supports 3 TB+ hard drives without any problems and the latest USB 3.0 and SATA III connections.
This unit provides swappable access to either 2.5" or 3.5" SATA HDDs or SSDs without having to install it in an enclosure or to mount the hard drive. Simply connect the dock to the host computer and then add your drive. After you switch on the power, your operating system should detect a connected hard drive. No extra tools are required to operate this machine correctly.
Data transfer rates are very good at this price point. You can expect speeds of up to 5 Gbps considering the SuperSpeed USB 3.0 interface which enables 10x faster speeds than USB 2.0. On SATA III transfer rates can theoretically go even faster, with a speed of up to 6 Gbps. UASP transfer speeds contribute to the performant impression of this unit as they can boost write and read speeds and improve CPU utilization. To conserve power, it can switch to sleep mode when idle and to ensure a better user experience, Cable Matters offers a LED light indicator.
With a wide range of applications, it seems like one of the most effective solutions for data recovery and drive imaging. But that's not all, as many testing centers or environments where fast access to archived drives is required can benefit a lot from its capabilities. One of the most common uses for a hard drive docking station like this one is to add memory storage to your laptop or computer and to recover data quickly and efficiently.
A powerful device that simply does what it's supposed to, the Cable Matters 202019 can cover all your needs easily as it provides a very attractive set of features for a highly competitive price. Many name brands can struggle to integrate into a single unit similar capabilities for a low cost. For all the reasons discussed in this review, it's clear that this hard drive docking station is a real winner on the market for these machines that can become true lifesavers in certain situations.
Key Features:
Supports 2.5 in and 3.5 in Hard Drives
USB 3.0 with UASP
Tool-free installation
Transfer speeds of up to 5 Gbps
USB 3.0 cable included
Windows and Mac compatible
Buy On AmazonBuy On Walmart
If you like the idea of a more versatile hard drive docking station, the Wavlink 336A can fit you like a glove. It's a user-friendly device equipped with two USB 3.0 ports and different memory card slots to make more flexible data transfers. The support for the latest SATA interface means you can directly connect your desktop HDDs or SSDs. Thanks to the JMS561U chip incorporated in this docking station, you can take advantage of high file transfer speeds.
This is a dual-bay external docking station that can accommodate a maximum of two 12TB hard drives. With the help of UASP Superspeed technology, you can expect better performance compared to typical USB 3.0 transfer speeds. The offline cloning feature is easy to handle if you follow the instructions correctly. The status of the process can be monitored through the LED lighting system of the docking station. Another handy ability is the automatic sleep function.
Buy On AmazonBuy On Walmart
For those looking to get a very reasonably-priced dual bay hard drive docking station, the Thermaltake BlacX Duet ST0014U-D is an ideal option. It supports 2.5″/3.5″ drives and SATA I/II/III technology as well as offering compatibility for both Windows and Mac operating systems.
This unit represents a very convenient solution for times when you need to read and write two hard drives simultaneously. It has hot-swap capability for quick access to your drives. This is the USB 3.0 version which provides faster transfer speeds to take your productivity to the next step.
Two firm eject buttons are placed on the top of the machine right next to the slots where the drives are inserted. They allow to conveniently take out your HDDs or SSDs. In these slots, you can fit any two 2.5″ or 3.5″ SATA drives which your connected computer should immediately recognize thanks to the plug-and-play capabilities of this docking station.
Monitoring the status of the hard drives can be done more comfortably by checking the LED activity indicators placed on this unit.The compact design of this Thermaltake not only helps with saving some space but it also dissipates heat and exhaust more efficiently.
The BlacX Duet is a very useful machine for checking the integrity of any SATA hard drives. It can also be used to copy data to and from drives or, with the help of cloning software, to clone hard drives. The transfer rates of up to 5 Gbps thanks to the USB 3.0 SuperSpeed interface can help you get any job done faster and the hot-swappable feature really contributes to keeping a rapid working pace.
Thermaltake did an excellent job with this dual bay model and offers a lot of flexibility and quality features for a decent price. Installing and using the BlacX Duet ST0014U-D is a breeze and all in all, this represents a solid choice for anyone wishing to purchase a reliable hard drive docking station.
Key Features:
USB 3.0 SuperSpeed interface
Transfer rates of up to 5.0 Gbps
Supports 2.5″/3.5″ SATA I/II/III Hard drives
Hot-swap capability
Plug & Play
Buy On Amazon
StarTech offers a nice hard drive docking station with duplication functions that are very appreciated by many computer technicians. This model can dock the drives over speedy USB 3.0 and provide convenient access to all your data. The price is a bit higher than single bay models, but this unit accepts two drives simultaneously.
As a standalone dock, this StarTech machine enables the insertion of virtually any 2.5 and 3.5 inch SATA hard disks or solid state drives. You get the ability to swap drives in and out as required and ultra high-speeds thanks to the USB 3.0 connection. It features sector by sector hard drive cloning and has a built-in LED indicator to check the progress of the operation. You can securely erase two drives at the same time. This is definitely a user-friendly solution for lots of applications that demand the duplication of a hard drive or erasing.
The speeds for transferring data can reach values of up to 5 Gbps for USB 3.0 and 480 Mbps for USB 2.0. Regarding SATA compatibility, it supports SATA I/II/III with decent rates of data transfer, up to 6 Gbps. In the package, you will probably get a USB 3.0 cable and a universal power adapter with all the necessary power cords, but this varies from seller to seller.
This is a device that lots of specialists and technicians can benefit from. System administrators can use the dock for fast access to drives for imaging. The unit can also be used for data archiving and for technicians who need to benchmark various hard drives and require the ability to swap between them with ease. Even if you don't need one for any professional purpose, you can safely use it at home to recover data or create backups more efficiently.
This docking station for hard drives by StarTech is almost flawless though it does have its little quirks. For example, if you connect the second drive while you already have one plugged in, it will eject it and then it reconnects both drives. This is a bit strange but it's not really a big issue. The StarTech SATDOCK2REU3 is still a highly recommended product, all things considered.
Key Features:
Can clone drives without a host computer connection
USB 3.0
Compatible with 2.5 and 3.5 inches SATA drives
Stand-alone single pass overwrite erase
Stand-alone Sector-by-Sector hard drive duplication
Plug-and-Play and Hot-Swap
LED progress bar
Buy On Amazon
Unitek's docking station comes with many decent features in a stylish package. The design of this unit seems to fit nicely with any Apple products considering its sleek aluminum body. While it has a slightly higher price than some other dual-bay hard drive docks on this list, it compensates in other areas so it's worth checking out, especially if you use Mac computers.
It's pretty obvious that this dock's main attraction is the beautiful silver design thanks to its solid aluminum construction. The looks aren't just for show though as this design is also practical to dissipate heat more efficiently as hard disks spinning at high speeds can get pretty hot.
This device allows the insertion of most 2.5" or 3.5" SATA hard drives and comes with a special offline cloning function. It can duplicate any two hard drives without requiring a computer host. You simply need to connect both drives together and identify the Original Disk and the Target Disk. Before switching on power make sure that the machine is connected to a power supply. All that's left is to press the "Clone" button and offline duplication begins.
A LED light is in place to indicate the current power and activity status. If the unit doesn't operate for 30 minutes, it enters sleep mode to save some energy. Unitek offers support for all Windows versions after XP including 10 32/64-bit and for Mac OS 10.10 or higher. Linux users aren't left out as they can also take advantage of the powerful features of this drive device.
The performance is decent, nothing that really stands out particularly, though it includes UASP support that delivers quick rates of data transfer when paired with USB 3.0. Another good aspect is the ease-of-use as you won't need any tools to insert your drives, the machine is plug-and-play enabled and hot swapping is available.
If your budget is a bit higher, the Unitek hard drive docking station with offline cloning function and speedy UASP USB 3.0 interface is recommended. There are models that are more cost-effective but they make some sacrifices in the design department. If you want a product that feels premium, this one is the best for you.
Key Features:
Supports 2.5 / 3.5 inches HDDs and SSDs
Maximum capacity allowed: 8TB
Apple Aluminum design
Solid construction
UASP support
Hot-swapping and tool-free installation
Buy On Amazon
The Orico 6629US3-C-BK is a hard drive docking station with great potential for different kinds of applications. This dual bay dock can clone drives without a computer host, is very easy to use and will cut short your waiting times when transferring large amounts of data thanks to its SuperSpeed USB 3.0 capabilities.
This device is fully compatible with 2.5 and 3.5-inch drives and works well with any SATA interfaces including SATA III. As a dual-bay dock, it allows users to mount two hard drives simultaneously. For a reliable connectivity between the HDD and host computer, the 12V4A power adapter should cover all the power needs without issues.
Simplifying things seems to be what Orico had in mind when it designed it to operate without the need to unscrew anything or to use any special tools. Just insert the drive and connect it to a PC or Mac and you will instantly gain access to your important files. The whole process works on a plug-and-play basis and the machine is suitable for both office and home use.
Data transfer speeds could reach even 5 Gbps thanks to USB 3.0 SuperSpeed connectivity and reversible compatibility is also guaranteed in case you need to use older USB interfaces. The UASP protocol enables a boost in speed, around 20% faster rates of data transmissions. Something to keep in mind is that it supports any hard drives up to 8 TB without any problem.
The offline duplicating function is one of the most interesting features of this model. There's a switch on the back of the unit which activates this ability and it can significantly facilitate the data copying process from a drive disk to another. It's worth mentioning that for this feature to work correctly, the target disk must always be larger than the source one.
If you are still a bit skeptical about the offline cloning feature, you can rest assured that it works just as advertised so give it a try and be amazed. Perhaps the only drawback is that the machine doesn't visually inform you of the progress but other than that, the Orico 6629US3-C-BK is a performant hard drive docking station highly recommended for anyone hoping to get their hands on a capable and reliable machine.
Key Features:
SuperSpeed USB 3.0
Compatible with 2.5 and 3.5 inches SATA HDD and  SSD
2X 8TB Support
1 to 1 Clone function without host
Easy and intuitive installation
Plug and play
Buy On AmazonBuy On Walmart
A more futuristic-looking hard drive docking station, the Sabrent DS-4SSD is optimized to manage a maximum of four HDDs or SSDs at once. You can transfer your data more conveniently between the drives and obtain quick access to all your files. Each port is equipped with a dedicated LED power indicator to separate the drives more effectively. The unit works without issues with the latest Mac and Windows operating systems.
Overheating is a potential problem that you might experience when using hard drive docking stations with more ports. To solve this issue, this model includes its own integrated fan to maintain the HDDs operating within acceptable temperatures. It's designed for more intensive use without safety concerns. Adding or removing drives can be done effortlessly with this docking station. It can reach maximum data transfer speeds of 5Gbps.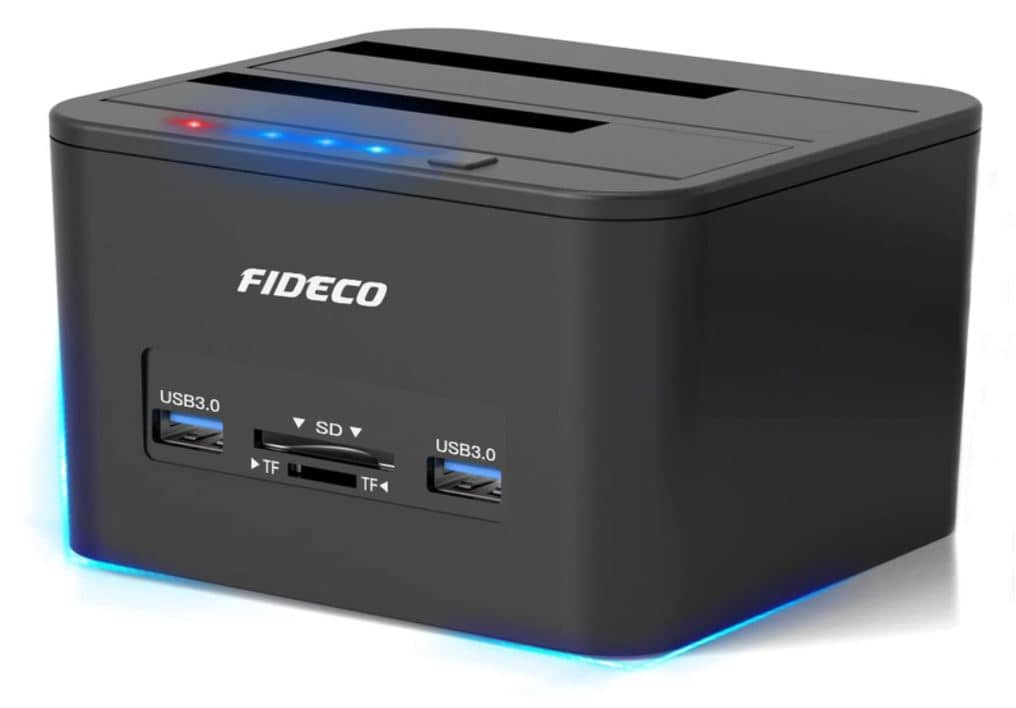 Buy On AmazonBuy On Walmart
With support for larger drives of up to 16TB, the Fideco hard drive docking station deserves a mention on our list. This model is optimized for various backup and IT data processing applications. It's designed with a practical dual-bay system that allows cloning or duplication without an obligatory PC connection. There's support for both hard drives and solid state drives using 2.5 and 3.5 inches SATA interfaces.
The offline cloning process seems a little complicated at first but the instructions are pretty straightforward for this docking station. The addition of red/blue indicators helps to figure out whether the clone processing is finished as expected. As opposed to more basic hard drive docking stations, this model also reads SD and microSD cards to allow for more flexible transfers. In terms of performance, the unit is designed with USB 3.0 support that ensures data transfers reach maximum speeds of 5Gbps.
Buy On AmazonBuy On Walmart
There are lots of performant hard drive docking stations on the market but few come with a focus on aesthetics. The SSK DK103 seems to be an exception in this case. It manages to blend a stylish look with reliable functionality. It's designed with a durable aluminum shell that offers a matching appearance with Apple products. The docking station packs an efficient heatsink and provides tool-free installation for two SATA HDDs or SSDs.
Thanks to supporting offline cloning, this model doesn't even require a computer connection if you want to transfer files. As long as you follow the instructions correctly, the process is a breeze to deal with. The docking station offers UASP support to speed up the USB 3.0 data transfers. Whether you have large movie collections to backup or want to build private cloud storage, this elegant hard drive docking station can help with a wide range of applications.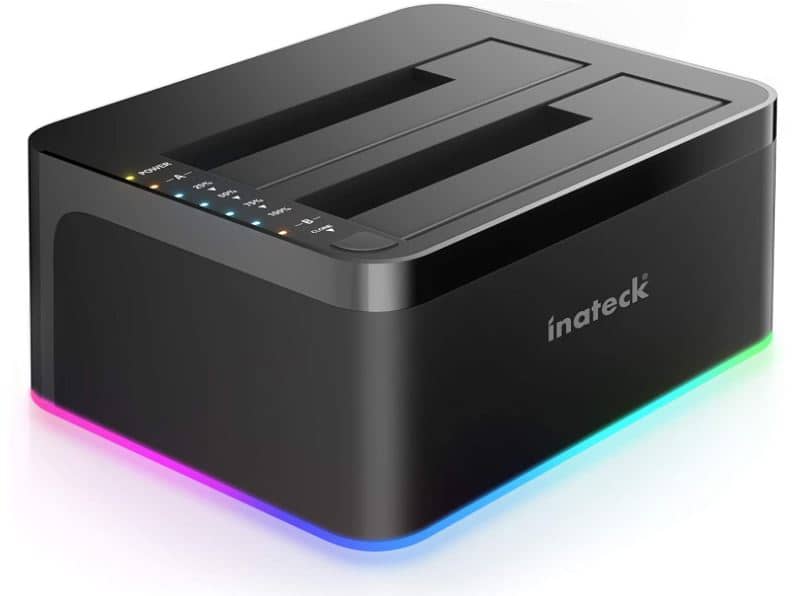 Buy On AmazonBuy On Walmart
Designed with a brilliant RGB light effect, the Inateck SA02003 represents a solid choice for gamers who need a hard drive docking station. The LED isn't just to create a pretty show but also works to signal the current status of the unit. This is a dual-bay docking station that provides support for most SATA HDDs and SSDs. The only considerable limitation is that it only accepts drives with a maximum capacity of 10TB each.
Installing the hard drives couldn't be easier considering that you don't have to bother with drivers or additional tools. File transfers are handled through a fast USB 3.0 interface that includes UASP support for better stability. The docking station is compatible with either Windows or Mac operating systems. There's also offline support for cloning. The addition of RGB lighting can be a plus for many people but others can find them distracting and unnecessary.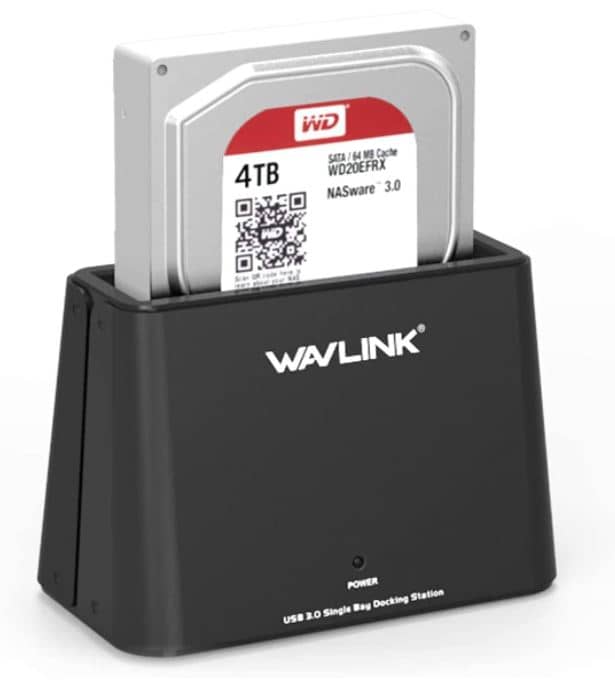 Buy On Amazon
Another excellent hard drive docking station to consider, the Wavlink 333U brings many advantages for users who need to create backups and make fast data transfers. This is only a single-bay docking station but it's well-built and reasonably priced for what it can do. The unit accepts many kinds of hard drives and SSDs but only up to 6TB in terms of capacity. It's a fairly portable device with a sturdy ABS construction and great heat dissipation.
The docking station lacks sophisticated features but includes practical functions such as a power control switch. It has support for the more recent UASP transfer protocol to accelerate USB data transfers. When it comes to operating systems accepted, the device works with virtually all the major ones such as Windows XP to 10, Mac OS X, and Linux. The accessory package contains everything required to get this hard drive docking station running smoothly, including the power adapter and data cable.