We may receive commissions from certain links you click on our website. As an Amazon Associate I earn from qualifying purchases. Amazon and the Amazon Prime logo are trademarks of Amazon.com, Inc. or its affiliates.
Use this quick navigation so you can reach to the desired section faster:
Best Heating Pad for The Money
Best Heating Pad for Back
Best Heating Pad for Cramps
Best Shoulder Heating Pad
Best Extra Large/King Size Heating Pad
Best Heating Pad for Neck
Best Microwavable Heating Pad
Hottest Heating Pad
A heating pad is indispensable for those looking to manage different kinds of pain that can occur in certain parts of the body. Localized application of heat helps tremendously as the warmth causes the blood vessels in that specific area to dilate. In this way, you can target the problematic tissue directly to relieve the pain more efficiently. Thermotherapy, the use of heat to treat pain, has the potential to treat a number of pain conditions some of the most common are:
Muscle spasms
Arthritis, joint inflammation
Back pain
Neck pain
Shoulder pain
Tendonitis
Sprain
Before you jump and start using a heating pad you must thoroughly inform yourself on how to use a heating pad and how to apply heat therapy to your back, neck or other painful parts of the body.
In case you find yourself in need of targeted relief for your pain then maybe choosing a heating pad can be a smart investment. There are lots of interesting products with varying prices on the market and finding the one best suited to your needs might be difficult. Thankfully, I've assembled a list of the best heating pads that not only alleviate pain efficiently but are quality products all-around and worth your money.

Best Heating Pad for The Money
Buy On Amazon
With a long history in the business of home appliances, Sunbeam is an American brand that stands the test of time because of its reliable and diverse range of quality products. From kitchen appliances to bedding and all sorts of home and health products, Sunbeam has infiltrated deeply in in the industry of consumer products. One category where this company truly made a name for themselves is the heating pads section.
The first product in this list is the Sunbeam 731-500 which has exactly the right features to accommodate most users looking for pain reliefs. It has a slide controller with a large switch optimized for arthritis sufferers and includes an absorbent sponge for moist heat therapy.
It has a slide controller with a large switch optimized for arthritis sufferers and includes an absorbent sponge for moist heat therapy. The 731-500 comes in blue color and offers penetrating pain relief especially for muscle cramps. Sunbeam constructed this product with a washable cover and incorporated a SoftTouch polyester for its fabric. This heating pad provides an effective way to increase the blood flow where it matters thanks to the UltraHeat technology. Muscles will relax and the healing is accelerated.
One reason I would recommend the Sunbeam 731-500 is the fair price considering its simple features and overall quality. It has the potential to deliver heat therapy according to your specific needs and is very easy to use. Being able to set the control the heating settings is definitely another plus. The only possible downside you should be aware of is that some people report a strange smell of the pad when heated, but this is a non-issue considering it takes a while to get used to it. All in all, Sunbeam 731-500 is one of the best heating pads out there.
Specifications list:
Fabric: SoftTouch polyester
Construction / Care: Vinyl Pad with Washable Cover
No fast heat and massage
Moist Heat Option: Yes
Auto Off Feature: No
Dimensions of 12 x 0.5 x 15 inches and weight of 2.4 ounces
Recommended for Muscle Cramps
Best Heating Pad for Back
Buy On Amazon
A leading manufacturer of premium home, health, and personal care products, PureRelief strives to offer a wide range of products created with a passion for health and wellbeing. Their King Size Heating Pad, the PureRelief XL is definitely held to a high-quality standard and focused on the user's needs.
By taking a simple glance at the list of features for this product you will notice that the PureRelief XL is intended for those that are in need for a more potent solution to their pain issues. One aspect that this pad seeks to accommodate better than other is regarding the size. As the name implies, this model is perfect for covering greater areas of your body. At a 12" x 24" size, PureRelief XL is perfect for treating sore muscles in your shoulders, back, abdomen, legs, and arms.
For optimal comfort, the pad's material is super soft micro plush which has delicate fibers that allow for comfortable daily use. Because time is important, PureRelief provides a fast-heating technology that in a matter of seconds delivers pain relief to any aching zone. Other notable features include a moist heat option that permits a safe use for moist or dry therapy, a 2-Hour Auto Shut-Off ability for conserving energy and to prevent burns and also a handy long cord that makes it easier to use the heating pad when sitting in bed or a chair. Something to consider about the PureRelief XL is that the cord connection and the heating control is rather bulky and heavy but that is something you'll often stumble upon among the bigger pads.
To conclude this short review, the PureRelief XL heating pad is ideal for people that need a full body relief as this product can alleviate muscle pain in lots of areas more efficiently due to its generous size. Overall, this is definitely a reliable heating pad and it comes with an added bonus of excellent customer support. In the case of any dissatisfaction, you've got a 5-year warranty which is pretty good for the industry.
Features:
Extra-Large Pad
6 Temperature Settings
Moist Heat Therapy Option
2-Hour Auto Shut-Off
9-Foot Long Cord
Machine Washable
Convenient Storage Bag
Material is Micromink and Polyester at the bottom
Best Heating Pad for Cramps
Buy On Amazon
Thermalon is a company with a considerable expertise in pain management, their first products were created more than thirty years ago with the simple goal of reducing pain effectively and consistently. If you are a bit wary about using potentially dangerous electrical appliances then maybe using a microwave activated heating pad could be the right solution for tackling your pain problems.
One such product that comes from Thermalon offers practical functionality in a smart design. The polyester combined with spandex of this heating pad is non-toxic and free of any annoying odors. A moist heat treatment is by far one of the best methods to relieve pain when it comes to thermotherapy and this pad was created exactly for this purpose. The heating pad is quite straightforward to use, it requires heating in a microwave and works nicely especially in treating shoulder, lower back, and abdomen pain feelings.
One thing you might want to be careful is to follow the instructions correctly as some people have reportedly endangered their microwave by incorrect placement of the pad or heating it too much. Considering the price of this Thermalon, I'd say it's more than affordable and given its reliability in ensuring pain relief for muscle cramps, joint problems and such, this is a recommended product for anyone looking to get themselves a new simple to use heating pad.
Features:
Dimensions of 2.5 x 3 x 10 inches
Weight: 1.5 pounds
Non-toxic and odor free
Spandex ( 12 %) , Polyester ( 88 %)
Best Shoulder Heating Pad
Buy On Amazon
One of the dominant brands on the market of heating pads is Sunbeam. There is an obvious reason for this – their products really are very appreciated among arthritis sufferers or other people with pain symptoms. Their wide range of models and designs are created to fit anyone's particular needs and combining this aspect with the affordability and their reliability, then it's quite clear how Sunbeam managed to establish a powerful brand in this sector.
One interesting example across their diverse range of pads is the Sunbeam 885-911 Renue Heat Therapy which has been specifically designed like a neck and shoulder wrap. Thanks to its unique design, the heating pad will fit well around the neck and shoulder area and for a more comfortable and secure fit, the edges are slightly weighted and Sunbeam provided a magnetic clasp.
To improve the comfort as much as possible, the 885-911 Renue has luxurious velveteen fabric that's ultra soft and facilitates the washing process. Sunbeam offers in this heating pad 4 heat settings which can be toggled using the digital controller included. It's essential to be able to deliver just the right amount of heat to soothe stress and tension away and as such to relax the pain. For your convenience, the pad has an automatic function to shut-off after 2 hours. Another great feature is the ability to go for a more dry sauna kind of feel if you prefer or to moisten for deep steam room-type relief. The not so good news about this Sunbeam is the relatively small size and despite the secure fit, some people might experience that the pad feels a bit too tight around their neck but not really to the point of being uncomfortable. This is just a minor issue to keep in mind.
Considering the ergonomic design and the quality materials, Sunbeam 885-911 Renue can ensure that all your heating needs are met and your shoulder, neck or back pain is alleviated. An excellent deal for an excellent product.
Features:
4 personalized heat settings
Automatic 2-hour shut-off
Ultra soft fabric
Spa Green color
Product Dimensions and Weight of 14 x 0.5 x 22 inches, 2 pounds
Best Extra Large/King Size Heating Pad
Buy On Amazon
Sunbeam is a brand that needs no introduction as it's one of the big names in the industry of electrical heating pads if not the biggest. Because of their dedication to overcome and attempt to treat sore muscles and arthritic pain, Sunbeam strives to impose a new standard of quality for relieving pain with the amazing capabilities of thermotherapy.
Another Sunbeam product makes this list of best heating pads on the market. This time we have the Sunbeam 938-511 Microplush which comes equipped with a LED controller. As it is quite obvious from its name, this model is a bit on the bigger side of heating pads which should definitely be regarded as an advantage by those looking to provide the necessary heat to a greater area of their body. The 938-511 measures 12" x 24" perfect for many joints and muscle groups.
The size is this pad's main selling point but Sunbeam worked on other features too. Its integrated micro plush cover has one side designed for ultimate comfort and the other much softer to the touch and made with the idea of providing the optimal heat in mind. Customizing your therapy session is easy as the pad has adjustable heat settings and a function for automatic shut-off after 2 hours. For a deeper penetrating relief, there is a moist heat feature. Caring for your heating pad is also achieved in a simple manner as the whole pad is machine-washable. A small issue to consider with this pad is that the led controller is not the most reliable and can sometimes act strangely.
Despite this little shortcoming, the Sunbeam King Size Heating Pad is a very effective product for everyone looking to get more relief from joint problems and muscle cramps or other similar pain symptoms. All in all, I'd say this heating pad is highly recommended especially for those who feel that size does actually matter sometimes.
Features:
Microplush Reversible to SoftTouch polyester fabric
Construction Care: One-Piece and Washable
No massage and fast heat feature
Moist Heat Option
2 hours Auto off feature
4 personalized heat settings
Size and weight of 12 x 0.5 x 24 inches, 1.1 pounds
Recommended for most muscles
Best Heating Pad for Neck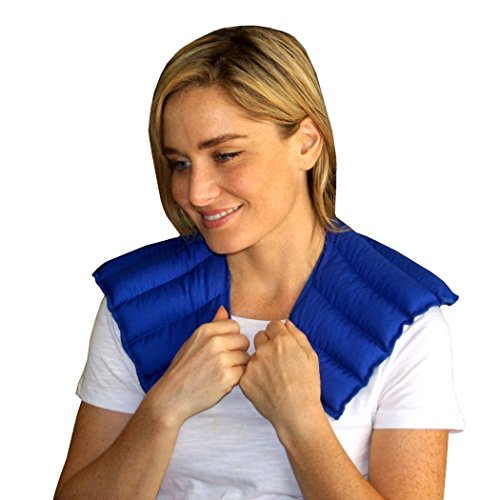 Buy On Amazon
My Heating Pad is a brand that offers decent quality and affordable products especially in the microwave sector of basic heating pads. This neck and shoulder wrap deserves a spot on this list because of many reasons.
One aspect worth noting of this model is its intelligent design by a chiropractor to adapt effectively to your neck, shoulders, and upper back area. It has 7 channels that act as components that distribute heat evenly throughout the pack. The inside of the pad is filled with rice and the unique tubular design makes it remarkably comfortable to use and allows you to wear it easily when walking around.
My Heating Pad made a reliable product that strives to ease tension and offer pain relief by calming spasms and relaxing neck muscles. The pad is really a pleasure to use, you can even just use it to warm up the chill. To induce a nice cozy feeling, this model has a soft fleece on one side for extra comfort and plush cotton on the other side for potent heat. Two minutes in the microwave is all it takes to bring that pleasant therapeutic feeling of warmth.
The smell of hot rice might be an issue for some but one thing to consider about it is that it's not too overpowering unless you hold the pad to your nose. Another notable feature of this pad is the ability to freeze it in case you would like it as a cold pad so it works nicely both ways. All in all, this heating pad is well made and a worthy investment for a microwave activated type. It's almost guaranteed you'll enjoy the comfortable warmth which should instantly loosen the muscles and provide the much-needed relief to the pain and tension associated with a stiff neck and shoulders.
Specifications list:
Unique tubular design
Microwavable heating pad
1 side fleece for extra comfort and 1 side cotton for extra heat
Rice used as Filling Ingredient
Dimensions and weight of 19.7 x 1.2 x 11 inches, 3.4 pounds
Best Microwavable Heating Pad
Buy On Amazon
If you are looking for a microwavable heating pad but aren't too keen on using one with rice which can spoil and become moldy and can develop unpleasant smells, then perhaps this warming solution bag from Beady Heat will do the heating job better for you. This heating pad is made from a special compound designed not to have any strange odors and to stand the test of time for many relaxing uses. The size of the pad is reasonably big, just the right fit for targeting specific areas. The ease of use is excellent, as expected of this kind of product, you just need to place it in the microwave and heat to your desired level. Beady Heat managed to develop an efficient method of keeping the heat trapped for longer lasting warmth.
For heat that needs to penetrate into the muscles, there is the moist heat therapy option and overall this heating pad will help you with many types of problems that cause pain such as aches, cramps, sore muscles and others. The material of the pad is soft and comfortable as the outside is made of a microfleece that has a pleasant feel to the skin. As always with this type of heating pad be sure to follow the instructions correctly so you don't overheat the pad or damage your microwave.
Beady Heat has created a worthy product to be included in this list as it's quick and easy to use, comfortable and also very affordable. But one of its main selling points is obviously the fact that it's not made with rice but with heat-saving beads so if this is something you prefer, this heating pad is one of the best recommendations I can offer.
Features:
Easy to use, comfortable and odorless
Moist Heat Therapy
Dimensions and Weight: 8 x 4 x 1 inches, 2.1 ounces
Buy On Amazon
One of the most interesting models of heating pads coming from Sunbeam is this King Size pad which has some powerful features for the more advanced users. The price is a bit higher than some people's budgets but still, I'd say it's worth it considering the excellent value it offers.
Its greatest asset is perhaps the size which is more than generous for covering big areas to provide relief on many different muscle groups. This Sunbeam extra large pad employs the XpressHeat technology that lets you feel the heat faster than ever. In only 30 seconds, the pad is fully heated and ready to warm any affected zone. A moist heat option will help with that penetrating feeling of warmth that seeps much deeper into the affected muscles.
Sunbeam integrated into this heating pad a digital LCD controller which features six heat settings and allows for the customization of your therapy session by including an auto-off feature (after two hours). The 002013-912-000 King Size has a cozy micro plush cover for convenient cleaning using an automatic washing machine. The pad is soft to the touch and extra gentle towards sensitive areas.
If the one aspect that matters to you the most is the convenience of having a big heated pad right away then this model should fit the bill. You probably just need to keep in mind the price range but if it's within the limits of your budget then you'll be hard-pressed to find a better deal than this quality Sunbeam heating pad.
Features:
Sunbeam XpressHeat technology
Digital LCD controller
6 heat settings
Adjustable auto-off feature
Moist Heat Option
Microplush Reversible to SoftTouch polyester
Construction Care: One-Piece Washable Pad
No massage
Recommended for Muscle Cramps
Dimensions of 24 x 12 inches
Hottest Heating Pad
Buy On Amazon
Milliard has a range of products that is very diverse and their constant dedication has always been to maintain a substantial level of quality and address the needs of their customers in the most creative and efficient manner.
Milliard's heating pad makes this list because of its excellent value per price ratio and its simplicity to use. It comes with three adjustable temperature settings handy for delivering optimized relief to your aching muscles. The pad heats up quickly providing relaxation whenever you need it. The controls are very simple and intuitive to use and for maximizing contact with heat, Milliard designed the pad ergonomically to conform to the curvature of your body.
The pad is soft to the touch, the plush velour cover is also easily removable for machine washing. Overall the vinyl design is solid and durable. Milliard included a long cord (8 in) to allow for more comfortable positioning and movement. Something you might notice as a slight drawback is the fact that the medium setting is a bit too hot while the low setting is slightly too cool. This is pretty subjective and it shouldn't be an issue in the long run as you get used to it.
To conclude, the Milliard Electric Therapy Heating Pad is one of the best heating pads for fast pain treatment because of its simple to use features and the high-quality standard. It offers concentrated warmth targeting muscle pain and other issues reliably.
Features:
3 adjustable temperature settings
Ergonomic Vinyl heating pad
Machine Washable cover
Easy to use controls
8′ Long Cord
Durable Design
Dimensions of 15X12 in.
Buy On Amazon
In case you don't really have budget constraints and you just want the premium quality no matter the price then you should probably take a look at the Sunbeam Xl Heat Wrap, a very stylish and powerful heating pad.
The obvious difference between this model and cheaper Sunbeam models is the softness and extra quality of the material. Sunbeam Xl Renue has a luxurious Royalmink pad cover which is extra gentle to the touch and ideal for sensitive areas. The rest of its features are definitely fit for a more expensive product. One thing where it excels is the comfort, the pad is not only incredibly soft but it's also designed in such a way to stay put on your shoulders thanks to its weighted beads and a magnetic closure. Sunbeam Xl Renue will envelop you in soothing warmth and more importantly, it will stay in place comfortably so you can move with more ease.
Customizing the heating settings is a simple job due to the presence of a digital controller that features 4 heat settings. This model is area-specific and its unique shape and upper flap allow for the most reliable treatment of the neck, back and shoulder zones. As its name implies, Sunbeam developed a reasonably sized product to fully cover and provide much-needed relief to a big area.
When considering the softness of the cover, the secure custom fit, and the extra-large size, the Sunbeam Xl Renue has what it takes to transport its user to a world of relaxation by soothing away all that pain and tension. The price feels justified when taking into account all of this so if you are in the market for the best heating pad money can buy be sure to check out this amazing product by Sunbeam.
Before you go, you might want to read our articles about the best noise reducing curtains, best ultrasonic cleaners, and best bug zappers. Also here is a nice guide on how to make your own homemade heat pad if you are not happy with what can be found on the market.
Features:
Luxuriously soft Royalmink fabric
Construction Care: Washable, made of one piece
No fast heat and massage
Moist Heat Option available
Digital LED controller
4 heat settings
Auto Off Feature of 2 Hours
9-foot power cord
25 inches on both sides
Recommended for Back & Spine and Shoulders