We may receive commissions from certain links you click on our website. As an Amazon Associate I earn from qualifying purchases. Amazon and the Amazon Prime logo are trademarks of Amazon.com, Inc. or its affiliates.
Quick Navigation:
For those who aren't familiar with KVM, it's basically an acronym that stands for keyboard, video, and mouse. A KVM switch is a device which allows you to control more computers or servers using only a single keyboard, video monitor, and mouse by employing a special dial or buttons on the switch. You can imagine the KVM switch as a 'parent' device which takes over the computer CPUs and servers that represent the 'children' devices. You might also be interested in our articles about the best hdmi switch and the best backlit keyboards.
There are many situations in which a KVM switch can come in handy. It depends on individual needs, but there are some great uses for both the personal and the professional sectors. A KVM switch can offer lots of benefits to those who have jobs that need the constant toggling between different operating systems. On a simple search for this product online you can discover a great variety of products, some of them really cheap, others more expensive. If you wish to figure out which one's best for you, analyzing a few aspects would be a solid starting point.
1. Power supply
Some KVM switches get their power through the connected computers, but others have an internal source of energy. The internally powered models are usually more reliable as they deliver a consistent level of performance. This is mostly because they don't have to rely on the capabilities of the host computer.
2. Compatibility
When you're shopping for a KVM switch, is essential to watch out for compatibility with your operating system. Some models run well with both Mac and Windows systems but you can occasionally find others that could only work with either Mac or Windows.
3. Port Capacity
The more basic models can simply switch between two different computers just by using one monitor, one mouse, and a single keyboard. There are also some more advanced units with larger port capacities which can toggle between numerous computers. It's important to analyze your particular needs to figure out which model would be better.
There are probably other relevant features to consider, but these are the main ones to have in mind. Armed with this knowledge, let's start looking at what's in store for high-quality KVM switches. Take a look at the following list which contains a diverse range of products that should be suited for multiple budgets and less or more demanding needs.
Best Buy KVM Switch
Buy On Amazon
The IOGEAR GCS22U wins the top spot on this list due to a reliable set of features that should help anyone who wants to multi-task. This is a 2-port KVM switch so it will allow you to control two computers using only one set of keyboard and mouse as well as a single monitor. At this price, this should be one of your first options to consider.
When you receive the KVM switch you will realize that you can start to use it right away. All the required cables with VGA-USB connectors are supplied in the box and there's no need for purchasing any extra accessories. Simply connect the cables to your computers and things will be soon running smoothly. Because the cables are molded-in, the setup will be significantly simplified.
After the install process, you will be able to switch with ease from a computer to the other using the built-in wired remote dedicated button. This remote has a decent length of six feet so it should accommodate to your workspace quite nicely. The design of the KVM switch is also quite lightweight and portable, suitable for those who have more limited space.
Among the supported operating systems, we can count Sun besides Windows and Mac. The switch won't need a separate power supply as it can take all its required energy through the USB port. It's a solid plug-and-play device that doesn't need a software to run. When it comes to actual performance and reliability, you can expect zero detectable latency and basically instantaneous switching between outputs.
Considering all the features of this KVM switch, it can be said that IOGEAR did a solid job with the GCS22U. It's well-made, compact and works exactly as expected. This handy little switch can save you from a lot of wasted time and effort and is recommended for those with more basic setups as it has just 2 ports.
Product Highlights:
2048 x 1536 maximum resolution
Plug-n-Play monitor support
Compact design
Molded-in cables
PC, Mac, SUN OS compatibility
Buy On Amazon
There are many people unwilling to invest too much in a very complicated KVM setup. If you're one of them, you should check out the Rosewill RKV-2UC, a KVM switch that delivers some basic functionality without any major flaws. The price is probably one of its standout features as it's quite low.
A great ability of this switch is the DVI functionality. From one DVI console, you can take control of two USB computers. The switching is done through a USB mouse, hotkeys, and via a remote port selector. The KVM switch is capable of USB 2.0 peripheral sharing but a USB hub is required for the USB mouse port.
I've mentioned the remote port selector and this is actually a very nice feature of this switch. What this does is basically enabling you to control port switching from the desktop even if the switch itself is located somewhere else, stored in a more convenient place.
Besides allowing for lots of hotkeys to make the switch to another computer, this model also supports a mouse port-switching function. A double-click on your USB mouse' scroll wheel is enough to make the switch.
A great enhancement comes with the addition of the Video DynaSync technology that should prevent any resolution problems with the displays that can occur when switching. This feature also helps with boot-up display issues. The final function worth mentioning is the Power on detection ability. In case one of the computers is turned off, the switch will recognize it and automatically move over to the next unit that's powered-on and switch to it.
Despite offering a fairly simplistic approach to KVM switching, the Rosewill RKV-2UC is worth considering if you want to stick to the essential features. The only weak aspect is the quality of the switching buttons. A bit too much plastic here leaves off a cheap impression. Still, you get what you pay for and considering the overall functionality and the quick switching, this is recommended.
Product Highlights:
2-port USB KVM switch
Built-in VGA connector
Support for resolutions of maximum 2048 x 1536
Windows and Mac compatibility
Works with Sun Solaris workstations
Buy On Amazon
If you're looking for a premium KVM switch you shouldn't miss the IOGEAR GCS1104, a model which can satisfy even those with more demanding needs. It provides a powerful interface that integrates 4-port USB functionality with peripheral sharing abilities. It takes it a step further as it allows you to share among computers hard drives, printers, and others.
This unit comes with an asynchronous switching function which basically enables to place the KVM focus on a computer and have the focus for peripherals on another one. It can be done at the same time too which is convenient because you don't have to interrupt print jobs or other tasks done by peripherals when you wish to switch from a computer to another.
One thing that you'll definitely like is the addition of DVI connectors and the reliable USB connection. DVI accommodates both analog video input as well as digital input. The single link DVI resolution goes up to a maximum of 1920 x 1200.
With the help of IOGEAR's DynaSync technology, you will be able to experience virtually no delay or resolution mismatch when you're toggling between computers. This is also the case when booting computers. It remembers the right parameters of the monitors, but keep in mind that this technology will require some additional drivers to be installed.
Monitoring the status of your KVM switch is simplified thanks to a convenient LED display. There's also an Auto Scan Mode that can be very useful for monitoring all computers. This model is hot-pluggable so you can add or remove computers at your leisure without the need to turn off the switch. Compatibility-wise, the KVM switch works with Windows, Mac, Linux, and even Sun host systems.
The price is a bit high for a KVM switch but if you want more performance and extra convenience, the IOGEAR GCS1104 is a very solid choice. This is a feature-rich unit that's built with durability in mind and it works without a flaw with modern monitors and a multitude of devices. All in all, it offers great value and it gets the job done.
Product Highlights:
Can control 4 USB DVI computers
Plug-n-Play hot pluggable
Independent hotkey switching
Auto Scan Mode
Support for 2.1 stereo audio + microphone
Buy On Amazon
Although this KVM switch box from UGREEN comes in the last place, that doesn't mean that this product is not on par with the others. It's a more basic KVM switch but it looks powerful enough and well-built to extend your workspace control. Don't let this one slip under your radar because it has great potential.
This KVM switch is obviously built for multitasking. Whether at home or at work, with the help of this little external device, you can take control of two computers from a one USB keyboard, USB mouse, and monitor. The maximum supported resolution for the monitor is 1920 x 1440 and the available ports are VGA.
Getting this KVM switch to work is not a particularly difficult process. The first step is to connect the USB devices to the connectors on the switch. Then you have to make the connection to the display device using a VGA cable as well as for the other computers.
When it's all done, use the dedicated button on the switch to toggle between computers. UGREEN provides two USB 2.0 cables but that's all, no extra cables so you might need to purchase some additional VGA cables if you don't already have them. Among the compatible operating systems, we can also count Sun Solaris, besides the usual Windows, Mac, and Linux. The KVM switch is very portable and won't require an external power supply.
Taking everything about the UGREEN KVM switch into account, it's safe to conclude that it manages a satisfactory blend of performance and cost. It's priced just right appealing to those looking for a more affordable unit to enhance their workstations. The directions aren't very hard to follow so the install process is very intuitive. An excellent solution for a basic KVM switch.
Product Highlights:
2-port KVM Switch
Portable and simple to use
Wide OS compatibility
Maximum resolution supported of 1920 x 1440
No power supply or software required
Buy On Amazon
The UGREEN KVM switch represents a quick and affordable way to share various devices between computers. It's compatible with all the popular operating systems and supports more power-hungry devices such as external hard drives if you connect an optional power adapter. This KVM switcher tool provides four output ports that rely on a standard USB 2.0 interface optimized for peripherals. It's a great choice for keyboards, flash drives, cameras, etc.
When it comes to operation, the unit includes a user-friendly button for switching while the LED indicator lets you know which input is currently active. Once you have all your devices properly set up, including the two computers, it's safe to say that you can start switching effortlessly. The two required USB cables are included in the package so you can start using this KVM switch right out of the box.
Buy On Amazon
Having the ability to switch between two computers connected to a single screen can come in handy in many situations. It's quite difficult when you have to disconnect the mouse and keyboard all the time though. This is why you should get the AIMOS KVM switch that lets you handle this process without any hassle. Two computers will be able to share one display while control is possible through two sets of mouse/keyboard peripherals.
The HDMI interface offers 4K support while the KVM switch shows off metal construction for enhanced durability. Some extra stability is provided by the non-slip feet installed on the bottom. This KVM switch is also compatible with other devices. You can connect different sets of gaming consoles, Bluray players, projectors, and more. Most HDMI-enabled devices should work but make sure you check the bandwidth specifications to ensure the best level of compatibility.
Buy On Amazon
An interesting model on the market for KVM switches is this 8-port unit from Rijer. This switch can control a total of 8 hosts and it comes complete with an extension switcher and all the necessary cables. It also supports a large resolution of maximum 1920 x 1440 and thanks to its rackmount design, it can be stored very efficiently.
When it comes to the construction, there are a couple aspects that seem to indicate a nice level of durability. The connectors are nickel-plated and the shell uses a solid metal with strong resistance to corrosion. The rackmount design gives off a more professional look of the device, making it a suitable choice for any cabinet.
The KVM switch uses an advanced system to protect against sudden high voltage lightning with 8KV maximum discharge and up to 15KV air discharge. When you take a look at the switch you will discover its handy LED indicators that show you the active computer and there's also a reset button.
Performance-wise, this KVM switch is able to offer support for high-resolution monitors as it accepts a maximum resolution of 1920 x 1440. The switch powers itself using one of the ports when you connect the computers so there's usually no need to use the additional charging port located on the switch.
All in all, the Rijer 8-port KVM switch is a solid all-around product. The instructions are a bit difficult to follow, but if you're familiar with KVM switches, then you shouldn't experience any issues with this model. All the needed cables are supplied and the rackmount design also allows for convenient mounting. Considering everything, this KVM switch is an excellent buy at this price.
Product Highlights:
1920 x 1440 maximum resolution supported
8 5-feet cables included
No power needed
Rackmount design
Nickel-plated connectors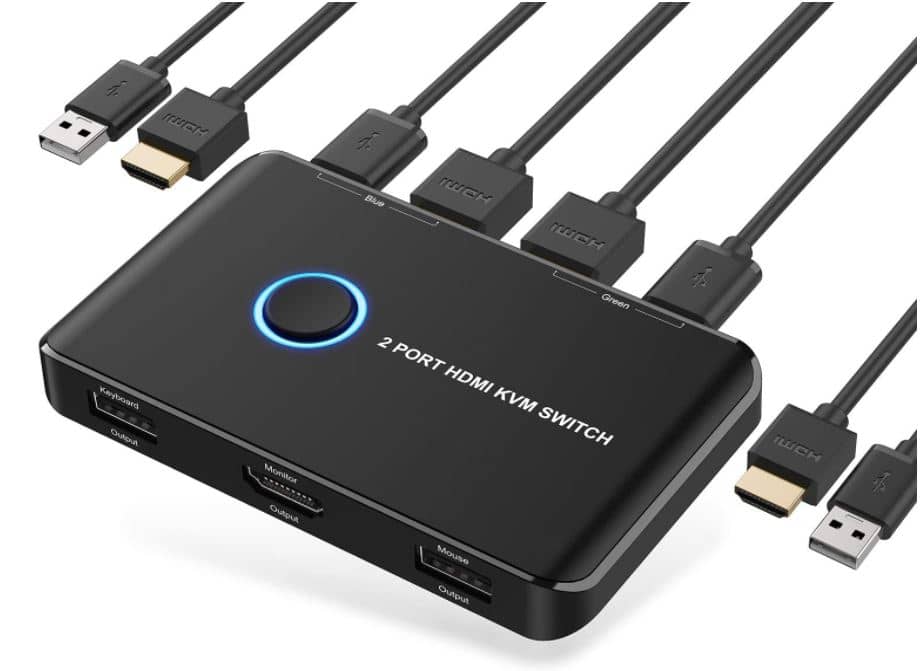 Buy On Amazon
If you need convenient switching between two computers connected to a single display, consider this well-designed KVM switch. You will be able to use a single set of control peripherals to increase efficiency when switching. There's a wide range of applications for such a convenient tool when considering the support for various input devices including gaming consoles, computers, and others. All you have to do is set up all the connections of your sources and target screen.
Similar to other KVM switches on the market, this is a compact unit. It won't take up too much space on your desk while enabling you to remove clutter from additional peripherals. Two systems will work through quick switching with just a single set of mouse and keyboard. Although 4K resolutions are supported, you need to keep in mind the refresh rate limitations. It won't allow 4K at 60Hz for both computers but accepts 4K at 30Hz.
Buy On Amazon
With the ability to also share two monitors with two computers, the TESmart KVM switch can enhance your productivity to a new level compared to more basic alternatives. You will be able to use a single set containing the keyboard/mouse peripherals and dual monitors while switching from different computers. Connections can get a little complicated but this is a reliable solution for creating multi-computer and multi-display setups.
Switching the computers can be done effortlessly in multiple ways. The remote control is particularly convenient but you can also push the button on the device or use hotkeys. In office environments, this KVM switch can be highly beneficial as you can switch computers between different monitors as needed. Although setting up everything can be a hassle and may involve additional accessories such as USB hubs, the final result is worth it considering the boost in productivity.
Buy On Amazon
Anyone who needs a convenient way to share one monitor between two PCs can try the GREATHTEK KVM switch. The device lets you use just one set of control peripherals for the purpose. Switching between sources is a breeze considering the added button on the device. The process is seamless but it's important to set the correct video resolutions for both computers. Problems might appear if both computers have resolutions beyond 4K at 60Hz.
When it comes to system compatibility, the KVM switch performs well on all the major operating systems. There are four USB 2.0 ports included here to share a multitude of devices like printers, flash drives, and more. It's worth mentioning that switching is possible even if you use wired or wireless keyboards/mice. This is a fairly versatile KVM switch that can be used in multiple work environments such as offices and schools.