We may receive commissions from certain links you click on our website. As an Amazon Associate I earn from qualifying purchases. Amazon and the Amazon Prime logo are trademarks of Amazon.com, Inc. or its affiliates.
Use this quick navigation to jump to the desired section:
Best iPhone Camera Lens
Best iPhone Lens for Video
Best iPhone Telephoto Lens
Even though few of us possess a high-quality camera, almost anybody has nowadays a smartphone with a decent camera. In case you are thinking about getting to the next level with your phone photography, buying some powerful new lenses could be an amazing upgrade for a stock phone camera. There are lots of kits on the market right now which contain various types of lenses, one of the most common being the fisheye lenses for capturing a 180-degree field of view and the wide-angle lenses to immortalize expansive landscapes or scenes. For getting more close-up details, many manufacturers also include macro lenses. Some can even add telephoto and CPL lenses. You might be interested in our articles about the best smartphone microphones and the best portable projector.
How to find the perfect smartphone camera lenses for your needs?
If you intend to add some extra optics on top of your smartphone's existing camera, you've got quite a wide selection of lens attachments to choose from. To make your job easier, we compiled a list of the best phone camera lenses that money can buy. A quality lens should always enhance rather than deteriorate the image and there are a few more aspects to consider before you jump in and purchase a brand new kit of phone camera lenses for your smartphone.
1. Ease of use
This is important, lenses that are difficult to use quickly are simply not worth it. There are some models which offer special rubbery designs to keep the lens from slipping and an easy to use clip which glides onto your smartphone.
2. Materials and durability
There are some great lenses on the market that offer premium optical glass and other solid quality materials which add to the overall durability. Some kits contain sturdy storage cases for transporting your lenses, to safely hold all the components together.
3. The price
Even a die-hard enthusiast of phone camera photography probably won't be willing to spend more than $100 on lenses for their smartphone. You can find some good image quality in more affordable options. Keeping the balance between features and cost is important after all.
The picture quality is obviously the most important factor to consider but it all depends on which type of lenses you prefer to use more in your photography sessions. In this list, you can find some solid choices for phone camera lenses that have the potential to truly expand your possibilities without spending too much money. Let's see which are the best phone camera lenses currently to be found on the market.
Best iPhone Camera Lens
Buy On Amazon
Made of premium optical glass, the Xenvo Pro Kit for iPhones is guaranteed to add a new level of excitement to your photos. This kit offers a potent combination of lenses. You've got a wide angle lens for capturing more objects in your photos and a macro lens that delivers a stunning 12.5X level of magnification to achieve some really amazing close-up shots.
The wide-angle lens is crafted from aircraft-grade aluminum for increased durability and Xenvo only uses high-quality glass for achieving ideal levels of clarity. To minimize ghosting, reflections, and other artifacts, the manufacturer coated the lenses with a special multi-element layer. Due to an impressively wide angle (0.45X), you can capture more elements in your photos and as opposed to cheaper lenses, you won't have to deal with vignetting, those dark corners that may appear on lower quality products.
If you wish to be able to capture those particular details and jump into the unexplored world of small objects, the macro lens from this kit should be a huge help. They offer 12.5X magnification to capture all those intricacies with precision-focus for crisp macro photos.
The clip used to fasten the lenses to your smartphone comes with some strong gripping power but it has soft rubber pads to protect your device from scratches. A rechargeable led light plugs into your phone and is used for brightening the surroundings with a pleasant continuous light which is superior to the built-in flash from your device. The flash often does more harm than good as it blinds people and yields unnatural photos in very dark settings but this LED light should reduce the number of photo retakes and make it so you get the right photos every time.
For safely transporting the lenses, Xenvo offers a very sturdy storage case that holds all the components together. There's also a special clip provided for hooking the case to a laptop bag or backpack for quick access to your lenses. Quite a convenient solution.
Although Xenvo's lenses kit is geared towards iPhone users, these should basically work with any smartphone that can fit them. All things considered, they did an excellent job with this little set of quality lenses. You can see the difference clearly but the price is also a bit higher than other kits. Still, if you want to be able to take more professional photos with your iPhone, don't hesitate to purchase these lenses because they are absolutely worth the money.
Key Features:
Truview 0.45x wide angle lens
Trugrip Lens Clip
12.5x Macro Lens
Rechargeable led fill light
Sturdy storage case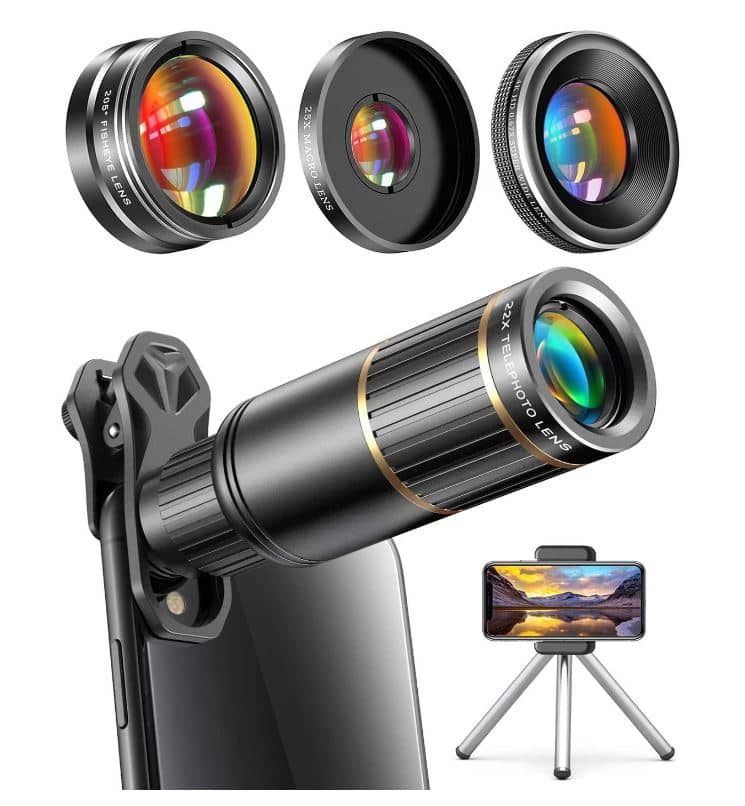 Buy On Amazon
With high-performance lenses in a versatile package, the CoPedvic kit allows you to upgrade your smartphone photography to a new level. This premium 4-in-1 set contains a solid selection of phone camera lenses to go beyond the limitations of your device. The telephoto lens lets you take photos of distant subjects without sacrificing clarity thanks to the powerful 22X magnification. Use the macro lens with 25X magnification power to handle close-ups.
If you want to take more professional-looking photos, the wide-angle and fisheye lenses can also come in handy. Thanks to an adjustable clip, it's a breeze to attach all the lens accessories to the phone's camera. The kit contains an extendable metal tripod to take care of any stability issues and help during camera rotation. You also get an eyecup that can be used as a monocular so this camera lens set offers excellent value for the money.
Buy On Amazon
The Godefa phone camera lenses show off some great characteristics for the cost. This is a huge 14-in-1 kit that contains a great selection of accessories for taking unique smartphone photos. Aside from the usual lenses, you'd expect such as telephoto, fisheye, wide-angle, and macro, the kit also features some extra additions to make it worth the money. You can expand your photography potential with the help of the kaleidoscope, CPL filter, starburst, and various tinted lenses.
Each lens has been designed with finely processed glass to reduce distortion and ensure great image quality. This is a recommended set of lenses if you like the idea of more flexibility in your smartphone photography. Whether you have a single, dual, or triple camera style on your phone, it shouldn't matter because the lenses provide great compatibility. Considering the multiple image effects that can be explored using these lenses, they're certainly worth a shot.
Best iPhone Lens For Video
Buy On Amazon
If you want just a simple and inexpensive pack of phone camera lenses, check out this model from Leknes. This is a high-performance 3-in-1 kit that relies on industrial-grade aluminum and sturdy optics for enhancing your smartphone photography. Take advantage of wide-angle, fisheye, and macro lenses that let you capture subjects in more innovative ways compared to the constraints of the phone's camera.
As opposed to cheaper phone camera lenses out there, this model stands out in some aspects. For example, there's a practical separate lens functionality that brings an extra layer of convenience when using these accessories. You don't have to keep the wide-angle and macro lenses screwed together when taking photos. All the lenses included here can be attached quickly thanks to a supplied clip-on accessory for the phone's camera. It's crafted using silicon pads for better stability.
Best iPhone Telephoto Lens
Buy On Amazon
Compatible with many iOS and Android smartphones, the Keywing camera lenses deserve an important mention on this list. They come in a practical set with only the essential lens styles for expanding the photographic capabilities of your device. Thanks to an advanced lanthanide optical glass, the lenses promise exceptional clarity with minimal reflections and ghosting issues. The macro, wide-angle, and fisheye lenses can be quickly attached to the phone using the clipping accessory.
With a decent focusing distance and 20X magnification, the macro lens is ideal for exploring the smaller worlds in greater detail. You can take better shots of landscapes with the help of the wide-angle lens that provides a significant expansion of the perspective. The 198-degree fisheye lens is also nice to have for creating fun visual effects. All these lens accessories can be transported more conveniently with an included storage bag.
Buy On Amazon
One great selection of phone camera lenses comes from Selvim. This kit offers performant telephoto, wide-angle, macro, and fisheye lenses to cover all your photography needs when using the smartphone. Thanks to a 22X magnification power, distant subjects can be photographed more effectively without sacrificing quality. Switch the telephoto lens for the wide-angle lens that can capture a much larger perspective.
When you wish to get more detailed close-ups, it's safe to say that the macro lens with its 25X magnification power will create excellent results. Finally, try out the 235-degree fisheye lens for some uniquely fun shots. Each lens included in this set benefits from ten multi-resistant coatings for durability. The optics are incorporated into aluminum alloy housings that give them a more reliable look. You can find a lens clip, a mini-tripod with a smartphone holder, and a carrying case in the package.
Buy On Amazon
Delivering DSLR-grade quality, the ANGFLY phone camera lenses shouldn't be missed if you want to make a better investment for your smartphone photography. Thanks to the particularly high-quality of its aspherical wide-angle lens, this model doesn't create dark corners while capturing more elements into your picture with utmost clarity. The macro lens takes the quality of your close-ups to a new level as well.
The secret for the amazing performance of this lens set lies in the custom construction relying on carefully engineered layers of cinema-quality glass enveloped with durable metal. With the help of the aspherical lens design, you can benefit from less glare and reflections bringing the smartphone's camera capabilities to resemble those of a DSLR. Although this little kit from ANGFLY is more expansive compared to those that offer more lens attachments, it's worth considering if you value optical quality above all else.
Buy On Amazon
If you plan on expanding the photographic capabilities of your smartphone, these high-clarity lenses from MACTREM are ideal to try. The construction of each accessory stands out on a market populated by cheaply-made products. These phone camera lenses are crafted with durable housing based on aluminum alloy. Each lens has a reliable 10-layer coating for superior light transmission. The kit provides compatibility with virtually any smartphone out there thanks to easy clip-on installation.
One of the most impressive lenses included is the 20X telephoto lens which makes it a breeze to shoot great pics of distant targets. If you want to capture crisp close-ups, the best solution is to attach the 25X macro lens. When you want to capture more scenery, you can rely on the 0.5X ultrawide angle lens. Finally, there's a fisheye lens provided to obtain a cool effect in your photos. The eyecup can also work as a monocular with a lens attached. All the accessories are neatly stored in a dedicated bag that's included in the package.