We may receive commissions from certain links you click on our website. As an Amazon Associate I earn from qualifying purchases.
Bringing your laptop on all your adventures might not seem like a good idea considering the fragile nature of a portable computer. A good solution is to invest in a rugged laptop case that can offer adequate protection in case of possible accidents. You will need a good case to carry the laptop around anyway so why not invest in a durable model that will keep your precious device safe from impacts and other damages? While it may seem easy to select a sturdy case that comes with waterproof and dustproof properties, you might discover that the research part isn't that straightforward.
This is because durability isn't all that matters in a laptop case. You still need to take into account other important aspects such as comfort, looks, and reliability in the long term. It can be hard to sort through the confusing market for rugged laptop cases and sleeves. For this reason, we've created the following practical list of products designed to maximize damage protection without forgetting about other important characteristics. Check out these rugged laptop cases that will give you a boost of confidence when it comes to traveling together with your laptop.
Buy On Amazon
Fans of minimalistic designs will appreciate the look of this rugged laptop case. The Thule Gauntlet 3.0 comes in a nice variety of colors offering a few notable features to protect your valuable portable computer. Considering its small dimensions, the case is best suited for a 13-inch MacBook Pro although there's a larger version as well for bigger laptops. Thanks to a clamshell design, the case allows the user to work on the laptop with the sleeve still on for constant protection.
That could be considered a useful feature when you need to use the laptop and it's rainy outside. There's also adequate resistance to impacts and drops. The case makes use of a potent combination of a rigid exterior and padded interior. You can depend on the reinforced corners and edges to absorb any accidental shocks while the soft interior keeps your equipment safe against scratches and bumps.
Best Rugged Laptop Carrying Case
Buy On Amazon
The Tomtoc 360 A14 is a very durable carrying case that offers great compatibility with lots of laptops including units made by HP, Dell, Acer, etc. The size is also fitting for the new 15-inch MacBook Pro. One of the best features of the case is the organized interior that provides you with all the needed compartments to store various laptop accessories or other devices like an e-reader.
Thanks to the patented CornerArmor design and complete soft padding inside, you can rest assured that the case will protect the laptop in case of accidental drops and bumps. There are many little details that contribute to a durable impression. An excellent example is the YKK zipper that's been specifically designed for the case to be reliable and lightweight. The only minus of this rugged laptop case is the lack of a shoulder strap that would have helped with the portability.
Best Rugged Laptop Case for MacBook Air 13
Buy On AmazonBuy On Walmart
Your MacBook Air 13″ needs proper protection against impacts and scratches. Getting a rugged laptop case like this model from NexCase represents a small investment when you consider the potential benefits of avoiding damages to your expensive laptop. Keep in mind that this case is compatible only with A1466/A1369 MacBook models so you should carefully check yours to ensure that it's a perfect match.
This is a special kind of case designed to offer a precise fit, which maximizes protection without affecting the stylish design. It relies on beveled edges for that purpose while the ridges are engineered to absorb any damaging impacts. Thanks to the snap-on installation, the case can be considered very user-friendly. MacBook computers can be vulnerable to cases that cover the cooling vents. The case has been carefully designed to keep the laptop adequately ventilated to reduce the risk of overheating.
Best Universal Rugged Laptop Case
Buy On Amazon
Those who prefer a sleeve-style case should take a close look at this rugged model from Tomantek. The case has been crafted to match any 15 to 15.6 inches laptops so it features universal compatibility. Damaging impacts are handled with the help of a 3-layer high-density material. First, there's the rigid PU surface that can handle spills. The middle is made from a slow-recovery 6mm layer of reliable sponge. Finally, there's an internal velvet cushioning that feels amazingly soft to the touch.
The zipper used for this case is waterproof so the laptop isn't exposed to any water danger. It's safe to say that the case can protect your valuable device from dust, shocks, and scratches without any problems. The sleeve is fairly lightweight despite the increased protection. It can be carried by itself or placed in a larger bag for convenient transport. Tomantek also offers this rugged laptop case in a different size for smaller laptops and tablets.
Best Heavy-Duty Rugged Laptop Case
Buy On Amazon
If you want no compromises on durability, your safest bet is to invest in a heavy-duty rugged laptop case such as the Pelican 1495. This model is not just dustproof and watertight but also completely crushproof. It promises industrial-grade reliability so that your laptop is safe no matter the environment you bring it to. Construction workers and hunters can benefit a lot from this kind of case.
The case performs much better compared to any regular laptop case. Inside, the laptop rests snugly to prevent any shifting and the manufacturer offers a customized approach when organizing the foam. You can take out pre-perforated cubes and adjust the level of foam to fit your particular laptop model as best as possible. Compatibility-wise, you shouldn't have any issues as the rugged case can accept laptops up to 17 inches. This means that even larger units can be safeguarded with the help of this sturdy case.
Buy On Amazon
The market for protective laptop cases is quite diverse. Check out this rugged model from Nacuwa that's been designed to match smaller 13-inch laptops like Dell XPS and MacBook Air. It gives protection against the elements and should ensure that you won't get the laptop damaged if you drop the case. Accidents can always happen no matter how careful you are, so it's a good idea to invest in a more durable case.
The hard shell of this case feels dependable to the touch. It makes a perfect combination with the slim design of the unit and the sturdy zipper closure. There are four layers of protection between the laptop and the outside world when inside this case. All of them have been designed to absorb shocks while maintaining a pleasant texture. The case is versatile enough to carry other devices as long as they fit inside. You can take advantage of dedicated pockets inside for accessories.
Best Small Rugged Laptop Case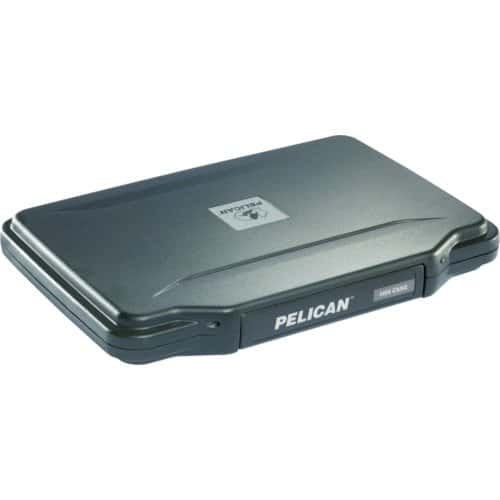 Buy On Amazon
Pelican is a very appreciated manufacturer of rugged laptop cases. They also have some budget-friendly models that deliver reliable protection. A good example is the 1055CC laptop case which features IP67 water and dust rating, as well as a reliable crushproof design. The liner of the case has been specifically engineered to absorb any shocks so you can rest safe that the laptop won't be affected during impacts.
Thanks to the pressure equalization valve, the rugged case will prevent any moisture or dust from getting inside and damaging the computer. There aren't any dedicated pockets to store accessories but the case is compatible with tablets. Similar to more expensive models from Pelican, this case features anti-scratch foam inserts so that delicate items can be safeguarded. The latches are easy to control and the stainless steel hardware gives off a tough impression.
Best Shockproof Rugged Laptop Case
Buy On Amazon
Anyone looking to get their hands on a military-grade shockproof construction shouldn't overlook this rugged laptop case from Urban Armor Gear. It's designed to accommodate the stylish look of the latest MacBook Pro models. Vulnerable areas such as corners have been reinforced with impact-resistant bumpers. The case is strong enough to let the laptop fall from 4' high multiple times without any damage.
The secret lies in the careful armor shell construction that's been drop tested to exceed military standards of protection. Despite the impact-resistance performance, the laptop case doesn't give off a bulky impression. This is because the design is somehow kept within reasonable limits to appear as thin as possible. When you close the laptop, you can count on the dual-lock closure feature that keeps the lid secure. We also like the tactile grip technology that ensures a firmer grip in the event of slippery conditions.
Buy On Amazon
In case you need a transparent laptop case that delivers proper impact damage protection, the SupCase Unicorn Beetle Clear offers a lot for the cost. This is a rugged laptop case made from quality materials to ensure that your newest MacBook Air stays safe in any situation. There's no hindered access to ports or the keyboard, and we also like how the case gives the laptop some breathing space underneath as it promotes airflow to the vented base.
While it will look quite obvious that the laptop has a case installed, the Apple logo will remain clearly visible due to this unit being transparent. The bumpers used are made from multi-layered TPU while the polycarbonate covers come with a honeycomb pattern for increased durability. You should no longer be afraid of accidental drops as the materials of the case work together to maximize shock absorption.
Best Rugged Laptop Case for MacBook Pro
10. i-Blason Rugged Laptop Case –  *Unavailable*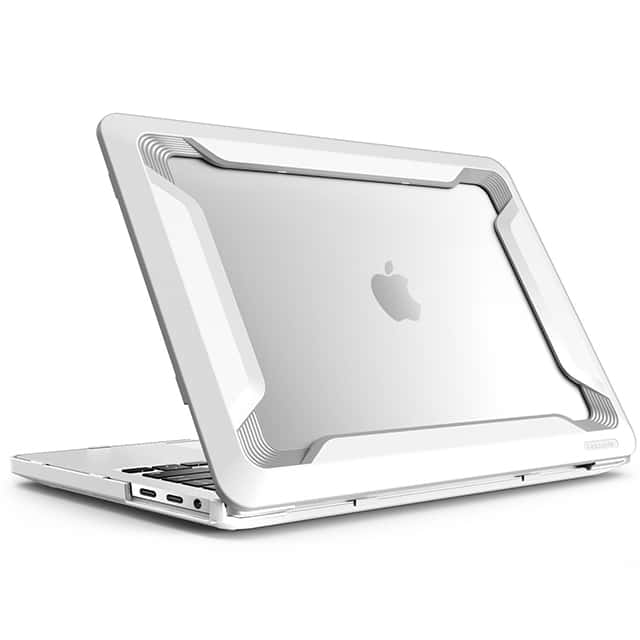 Designed to protect the MacBook Pro 13″, this rugged laptop case from i-Blason offers lots of abilities for a reasonable cost. It's crafted to fit the MacBook perfectly and comes with shock-absorbing ridges so you can depend on it during laptop transport. The case doesn't modify the sleek design of the MacBook and it even lets the Apple logo shine through. It offers easy access to the laptop's ports so you can connect accessories without taking the case off.
When it comes to installation protection, there is only good news. The rugged case is a breeze to attach to the laptop in a secure manner. If you're worried about heat dissipation, it's worth mentioning that the manufacturer opted for a fully vented design for your peace of mind. There are rubberized corners to enhance stability. The case also arrives with an anti-scratch protector for a more complete level of protection.